Clear-Up After Landslide In Bournemouth Overnight
21 February 2014, 12:17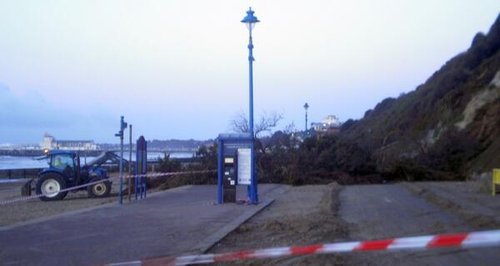 There's been a landslide between Bournemouth and Boscombe piers.
Portland Coastguard say it happened around 11pm on Thursday night (20 February). It involved a 20 metre stretch of land.
The Coastguard used thermal imaging equipment to make sure no-one was in the area. It's not thought anyone was hurt.
A cordon has been out in place there this morning (Friday 21 February).
Tractors are now being used to clear up the landslide.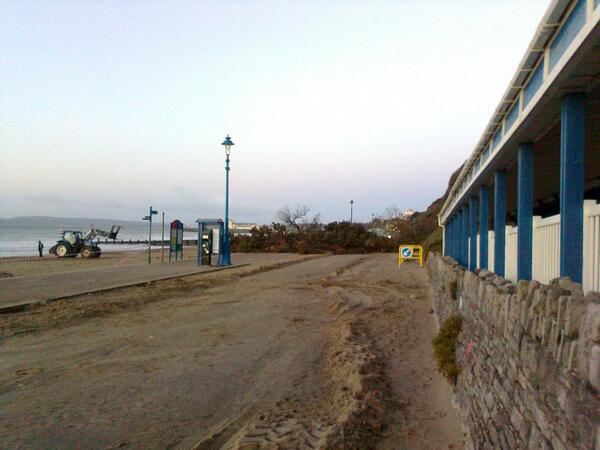 A Dorset Police spokesperson said:
"At 11.54pm on the 20th February, a call was received from a member of the public reporting a large landslide of the Overcliff between Bournemouth and Boscombe piers. Resources from Dorset Police, Dorset Fire and Rescue, South West Ambulance service and HM coastguard responded to the scene.
"A review of Bournemouth Borough Council CCTV footage indicated the landslide had occurred over an hour previously at 10.55pm. An assessment of the scene identified that a 20 metre wide strip of the cliff face, consisting mainly of topsoil and vegetation had been dislodged and fallen across the beach road.
"No injuries have been reported and a specialist search team was deployed to confirm no persons were trapped within the fallen debris. The local authority are now managing the scene with the beach access road remaining closed for clearance work to be undertaken."
(Pictures: Blue Planet Society.)