New £22m Bournemouth Uni Building
15 April 2014, 10:43 | Updated: 15 April 2014, 10:45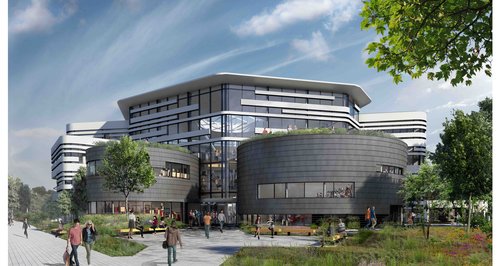 A new £22 million Bournemouth University building has been given the go-ahead by Poole councillors.
Opening in 2016, the glass-fronted four-storey facility will host academic and support facilities, including seminar rooms, lecture theatres, break-out space and catering facilities. The project, in the heart of the campus, follows another development on site.
Currently under construction is the £10.5m six-storey student centre, also fronted with glass and due to open next year. With the Bournemouth University International College building in Lansdowne, which is also under construction, BU is making significant progress towards its aspirations set out in its vision and strategic plan, BU2018.
These developments are key to the aspirations of the University, which contributes more than £1m to the local economy every day, creating world-class facilities for world-class performance.
As part of BU's green policies, the new academic building follows the others in being developed to the BREEAM 'Excellent' rating for environmentally sustainable buildings.
Last year saw BU leap 14 places in The Sunday Times Good University Guide and become the first university to be commended by the Quality Assurance Agency for Higher Education for the quality of student learning opportunities – the highest award possible. BU is now ranked 59th overall out of 121 universities. Vice-Chancellor Professor John Vinney said:
"We have taken great strides in recent years to improve our level of performance and to attract high-calibre students and staff.
"The higher education sector is becoming increasingly competitive and we cannot afford to stand still.
"Our aspiration is to become a centre of academic excellence in education, research and professional practice and we need world-class facilities like this new academic building to match those aspirations.
"This new building will provide state-of-the-art facilities for our students and staff and enable us to vacate some temporary buildings.
"Together with our new student centre and the Bournemouth University International College building, we are well on the way to enhancing the student experience."
The academic building will be developed on an existing car park. To replace all of the parking spaces lost, a new landscaped car park - situated just to the south of the campus will be developed. Just a five-minute walk away from the campus, it will provide a 'park and stride' facility for staff and students with BU parking permits.
A new mini link road will also be constructed to connect Gillett Road to the campus to minimise traffic flows through local residential roads. Professor Vinney added:
"Through its attractive atrium and open spaces this new building will offer a very welcoming atmosphere to all who visit us.
"We are very much part of the local community and we welcome residents and businesses to share in these new facilities when they open."
From October to December 2013, BU held extensive public consultation on its proposals to develop a new academic building, with 87% of all respondents in support. A large majority said they also preferred the 'park and stride' option - 72% said they preferred park and stride compared to 9% who selected the other option consulted on, park and ride.
The park and stride facility will get under way first, with construction due to begin in May/June this year. Construction of the academic building itself is due to start in the summer and is set to be completed in 2016.