New Primary School For Bournemouth Approved
11 November 2014, 12:48 | Updated: 11 November 2014, 12:51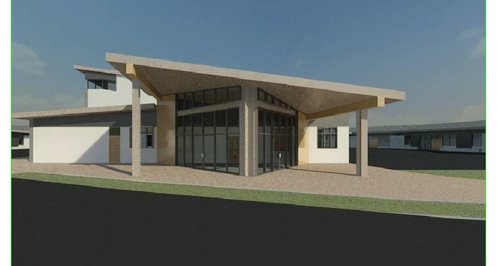 A new £6m primary school building that will provide more places for children in Bournemouth has been given the green light from planners.
This new building will provide state-of-the art education facilities for Avonwood Primary, which opened in September this year.

Children currently at Avonwood are being taught in two specially constructed temporary classrooms.

Avonwood is an extension of the education provision offered by the Avonbourne Trust, which includes Avonbourne College (girls 11-16), Harewood College (boys 11-16) and Avonbourne Sixth Form (mixed).

It's currently home to 60 Reception pupils and is expected to be full by 2020 with children aged from pre-school to 11.

The new primary school building will primarily be single storey and curved in design and is scheduled to be ready for a partial opening in September 2015 - when the second intake of Reception children join.

It is expected to be fully completed by the end of 2015 or early 2016.

Executive headteacher of the Avonbourne Trust, Debbie Godfrey-Phaure, said:

"We are delighted that our plans have been given the go-ahead so we can realise our vision of providing a first-class education for the children in our community.

"When we heard of the urgent need to provide more primary places for our local children, we knew we wanted to help.

"Our vision for Avonwood Primary is to preserve the wonder of childhood through providing an inspiring place of education for our youngest members in the community.

"These excellent new facilities and amenities are essential in helping us to do that - not just for this generation but for generations to come."

Eventually the school will provide up to 420 places for children aged 4-11 and 28 nursery places.

The new building will be located to the south east of the main Avonbourne College near to the existing tennis courts, which will be relocated.

It will have its own dedicated entrance off Newlands Road and separate exit using the former entrance to Avonbourne College.

This access route was proposed because it offers better visibility and enables more off road parking for parents.

Using the existing slip road for the secondary schools as an alternative entry to the new primary school was looked at again at the request of the council's planning board when it first met to discuss the plans on October 20.

A report carried out by independent traffic consultants Scott White and Hookings on behalf of Avonbourne Trust concluded that using the existing slip road would cause significant congestion and safety issues for children onsite.

The Trust is also operating staggered opening and closing times for its secondary and primary schools to relieve the impact of school traffic on local roads.

There will also be car parking spaces and a dedicated drop off point for parents.

It is hoped construction on the new permanent building will get underway by the end of this year.