Pictures Of Ransacked Home In Dorchester Released
5 December 2013, 10:59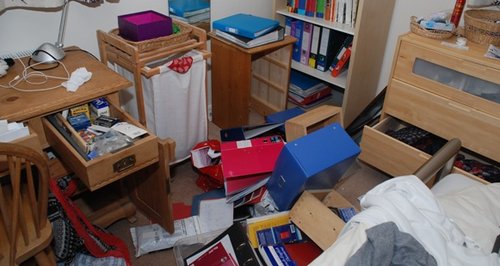 Two burglary victims in Dorset are urging people to "think security" this Christmas to avoid returning to a ransacked home.
The couple from Dorchester were targeted by opportunist burglars in June this year while they were away on holiday.
One of the victims has released photographs of their trashed home to support Dorset Police's Countdown to Christmas burglary campaign.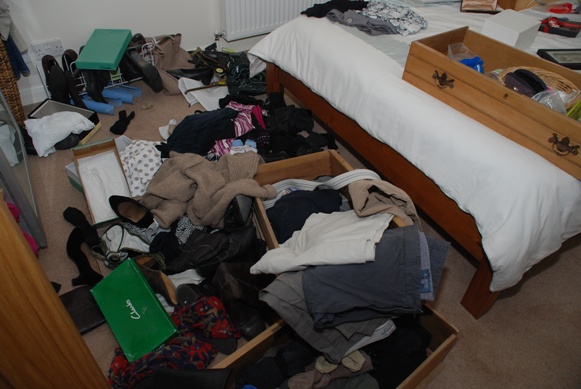 The offenders gained access to the victims' home by smashing their way through a locked utility door.
They upturned every room in the house before stealing a Mercedes car from the driveway and items of jewellery.
The 65-year-old victim said:

"I was really shocked when I found out. We have never been burgled before and moved to Dorset because it was a safer place to live.
"They upturned every room in the house, even the attic. This type of crime never leaves you. Whenever we return from holiday the key goes in the door and we wonder what we are going to find inside.
"The burglary also had quite an impact on our neighbours. A number of them are elderly and it really upset them to know this had happened so close to home."
The victim said he has increased security at home by having an alarm fitted, moving the padlock on the gate and putting prick-strips at the top of each gate. He also moves valuables to a locked cupboard which opens outwards.
"We had always been quite thorough about locking up and shutting all the windows but the offenders gained access by smashing a glass door.
"You cannot stop burglars striking but everyone can take steps to keep these people away. Make sure you lock up, put on the alarm, put valuables in a safe place and take all keys out of doors and windows."
John McDonald, Ryan Whitton and Reece Webb, all aged 24 and from North London, have pleaded guilty to conspiracy to burgle at addresses in the Dorset, London and Hertfordshire areas. Whitton was jailed for three years. McDonald and Webb are due to be sentenced on 20 January 2014.
Dorset Police say burglary crime traditionally increases in Dorset during the festive period, with a marked rise in the number of crimes committed in December and January compared with October and November.
Detective Inspector Richard Dixey, of Dorset Police's Priority Crime Team, is calling on residents to take some simple crime prevention steps to make sure burglars don't ruin their Christmas. He said:

"Ensuring valuables and presents are not left on display and making sure that all windows and doors are securely locked when leaving the property will reduce the chances of being burgled.
"Burglaries tend to increase over the festive season due to the longer hours of darkness and because criminals know people will have valuables and presents in their homes."
DI Dixey says members of the public with devices such as iPads, smartphones and laptops should consider downloading tracker apps.
Dorset Police will be using a range of tactics in a bid to reduce burglaries across Dorset over Christmas and New Year – under the banner of Operation Castle.
DI Dixey continued:

"We will be stepping up patrols in vulnerable areas and working with neighbourhood and community groups to ensure the crime prevention message gets out to all residents.
"Not only will we be targeting burglars over Christmas, we will also be targeting handlers of stolen goods.
"Anyone offered high value items at cheap prices by an individual should contact Dorset Police."
Students are also being reminded to ensure their digs are locked up and secure when they return home for Christmas.
They should:
Ensure all windows are closed and that doors are locked

High value items such as TVs, laptops, computers, tablet devices, cameras, games consoles and jewellery are all favourite items for burglars – don't leave them behind

Ensure bikes are securely locked away, or taken home

Make sure shed doors and garden gates are fitted with good quality locks.
You can follow the Countdown to Christmas campaign on Twitter @dorsetpolice and looking out for #DPXmasCountdown.