Rare Chimpanzee Twins Born At Monkey World
3 October 2013, 15:16 | Updated: 4 October 2013, 12:24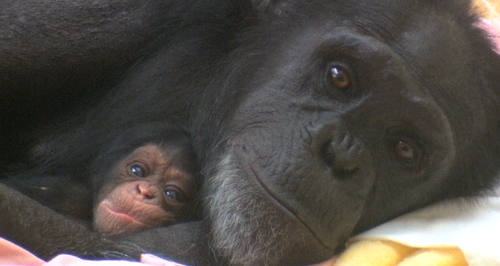 Rare baby twin chimpanzees called Thelma and Louise have arrived at Monkey World in Dorset.
The twin girls were born on September 25th, and have an extended family of 19, including mum, Cherri.

Monkey World's female chimpanzees are given birth control pills to avoid over-populating the 65-acre primate rescue centre and because there are still more chimpanzees around the world that need rescuing.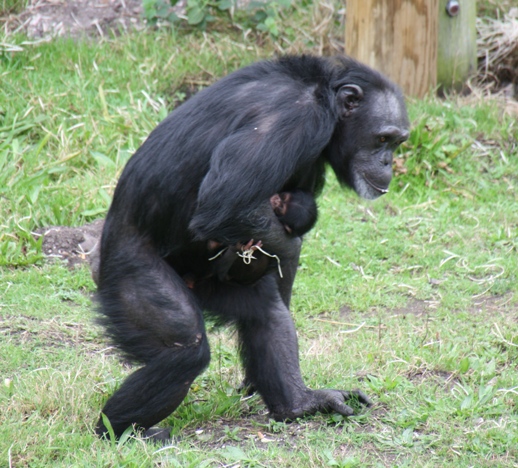 Cherri was put on antibiotics last winter for a chest infection, which caused her contraception to fail. As the park's birth control 'outlaws', the twin girls have been aptly named Thelma and Louise - after the famous movie fugitives!

It's not the first time Cherri's contraception has failed, but previously she was a very young mum who would set her baby down to go outside and play.

That was more than 10 years ago and now mature mum Cherri (she is in her early 20's) is doting on both infants, even if she has got her hands full! She also has the protection of her adopted family of 18 other chimpanzees and, in particular, a male chimpanzee named Simon who has not left her side since she gave birth.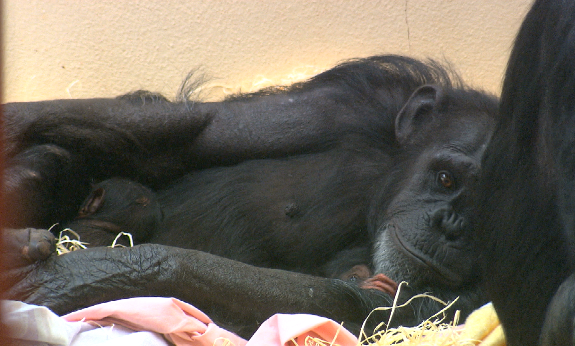 Primate Care Staff are optimistic, but keeping a close eye on Cherri and the tiny babies' progress as it will not be an easy job for Cherri with the twins dependent upon her for the next 4 - 5 years.

Director of Monkey World, Dr Alison Cronin, said:

"We knew that Cherri was pregnant but twins were a surprise as they are not very common.

"So far Cherri is doing a great job with the girls and is very attentive to both their needs.

"If one is turned around the wrong way, Cherri makes sure that both babies are placed near to her breasts so that both infants have a good opportunity to feed.

"It is fantastic to see her doing so well, especially as chimpanzees use their hands and feet to walk and climb but Cherri is very conscious to help support the two infants, so her hands are full even when she is climbing up our 20m climbing frames."

"It is also wonderful to see how supportive the whole group is as they are all orphans from the entertainment industry, laboratories, black market pet trade, and defunct zoos.

"We do not breed chimpanzees at Monkey World, but it is really nice to see how the whole group has come together as a family and all interested in the babies."