Trafficking Posters In Poole Toilets
8 March 2014, 06:27 | Updated: 8 March 2014, 06:30
Soroptimists of Poole and the Purple Teardrop Campaign have chosen International Women's Day on 8th March to launch their latest initiative to raise awareness of human trafficking in Poole.
With the full support of Borough of Poole and maintenance contractors Churchill Contract Services, anti-trafficking posters are being placed in all the borough's public toilets – providing information on the signs of trafficking, and a telephone number to ring to report suspicions.
A spokesperson for the Purple Teardrop Campaign (PTC) and one of the instigators of the Posters into Toilets campaign says:
"It was Soroptimist Clubs in the North of England who first came up with the idea of displaying information in public toilets to both raise awareness of the crime and provide the Crimestoppers number for people to report any suspicious activity. We were therefore delighted when we got strong support from Poole Council for doing this locally. Since then we have been working with the Council's Environmental and Consumer Protection Services Department and their contractor, Churchill Service Solutions to finalise the practical details. With tremendous support from these two organisations we are delighted to mark International Women's Day with the launch of this initiative, and are extremely grateful for all they have done".
Councillor Xena Dion, Cabinet Portfolio Holder for a Prosperous and Sustainable Poole, Borough of Poole, said:
"The council fully supports the Purple Teardrop Campaign and we will take every opportunity to raise awareness of the issue of human trafficking. The Posters in Toilets campaign is a great idea and one that we are pleased to be involved with."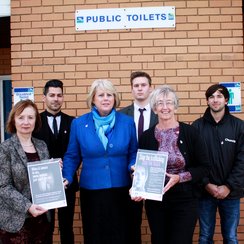 Human Trafficking is the fastest growing major criminal activity in the world, and in effect this is a modern day form of slavery. This appalling treatment of our fellow human beings does not just happen in other places.
It also happens here in Dorset. It was this realisation which led Soroptimist International of Poole in September 2008 to launch a campaign to raise public awareness, campaign for new legislation and raise funds to support victims.
Given its roots in the Soroptimist organisation, the Purple Teardrop Campaign has spread its net worldwide and Soroptimist Clubs all over the UK and across Europe, the Caribbean, USA, and Australia use PTC materials to increase awareness and raise funds in their localities.
For more information go to www.purpleteardrop.org.uk