Two Jailed For Rico Dardis Murder In Christchurch
30 June 2014, 17:16 | Updated: 30 June 2014, 17:18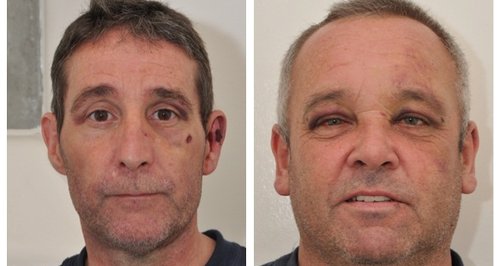 Two men have been sentenced to life in jail for the murder of Rico Dardis in Christchurch last year.
Paul Gerlach, 52 and of no fixed abode, and Louis Borzoni, 50 and from Bournemouth, were found guilty of murder and sentenced today, Monday 30 June 2014, at Winchester Crown Court.
Gerlach will serve a minimum of 17 years and Borzoni a minimum of 15 years.

The court heard evidence that on 27 May 2013 Paul Gerlach, Louis Borzoni and Rico Dardis went out together in a speed boat, just outside Christchurch harbour.

Gerlach and Borzoni argued with Mr Dardis and pushed him off the boat. He was then deliberately ran over with the boat and killed. The two offenders allowed the boat to drift into the shore, where they abandoned it and left the scene.

Dorset Police was first notified of the incident by two members of the public who raised the alarm after witnessing two men acting suspiciously on-board a boat.

Mr Dardis was found dead near groynes at Seaway Avenue in the area of Friars Cliff at around 9.10pm on Monday 27 May 2013.

Gerlach and Borzoni were arrested later that evening in Christchurch. Following their release on police bail, conversations between them were covertly recorded in which they were heard plotting to agree on a consistent turn of events.

Both were also heard confessing to the murder of Rico Dardis.

Detective Inspector Marcus Hester, of Dorset Police's Major Crime Team, said:
"My thoughts are with the family of Rico Dardis and I hope that today's verdict brings some closure for them.

"This was a violent attack with a very tragic outcome for someone who was a popular and well liked character in the Boscombe area."