Wareham: Landfill Site To Reopen Soon After Huge Fire
9 September 2014, 12:40 | Updated: 9 September 2014, 12:44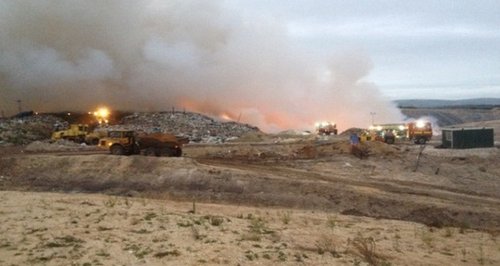 A landfill site in Wareham is due to reopen tomorrow (10 September) after a huge last week which burned for nearly three days.
Owner Viridor has confirmed that the recent fire at Trigon landfill has now been fully extinguished and investigations into the fire have not provided any conclusive evidence of how the fire started.

Dan Cooke, Viridor, Director of External Affairs said

"We are currently not able to categorically confirm the cause of the fire.

"Whilst vandalism cannot be ruled out, experience suggests that the likely cause could be flammable or combustible waste being put into a general waste bin or, on the back of a bank holiday weekend, a disposable barbecue or used coals that were not completely cold before being disposed of".

"We would urge waste producers and members of the public to be diligent about ensuring that flammable and combustible waste such as fireworks, flares and batteries are appropriately disposed of and that any barbecue material or similar is rendered safe and fully extinguished before disposal."

Viridor is in the process of preparing the site, which is likely to be reopened tomorrow (Wednesday 10 September).
Firecrews were called to the landfill site at Bere Lane at around 5pm on Sunday 31 August and didn't leave until Wednesday evening.

People in Bournemouth, Poole and the New Forest were warned to keep their windows shut because of smoke drifting across the area.