Armed Robbers Target Leighton Buzzard Shop
14 October 2013, 15:21 | Updated: 14 October 2013, 15:26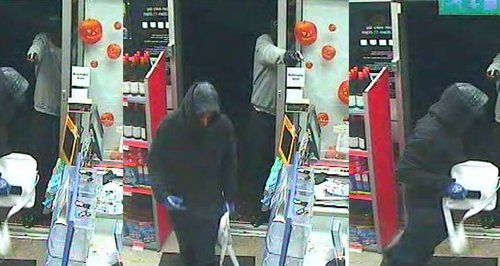 Bedfordshire Police are appealing for witnesses to come forward after two men - armed with what appeared to be a handgun – robbed the Co-Op store in Clarence Road, Leighton Buzzard on Saturday night.
The incident happened at around 10.30pm when the two offenders approached the entrance to the shop with the first demanding money from the till and the other holding the door open whilst waving a small weapon around. As the first offender told the cashier to fill a bag with money the second offender discharged the weapon outside the shop with the noise being described by witnesses as 'a pop' similar to a cap gun. The first offender then leant over the counter and grabbed a coin tray from the till before both men fled.
Officers have reviewed CCTV footage from within the store and released images of the two offenders. Detectives would also like to speak with anyone who may have been in the area at the time of the robbery and seen the offender either before or after the incident.
Detective Constable Tom Hamm, who is investigating the raid, said: "This was a very frightening experience for the shop assistant who genuinely feared that she would be shot if she did not do as she was told. While it appears that the weapon was more than likely a replica, the fact that the offender pulled the trigger is extremely worrying. I'm keen to speak with any witnesses who were in Clarence Road on Saturday night and may have seen this robbery taking place. Even the smallest piece of information could be vital for our inquiries."
If you have information relating to this incident, contact DC Hamm, in confidence, on 01582 394498, the non-emergency number 101, or text information to 07786 200011.
Alternatively contact independent charity Crimestoppers, anonymously, on 0800 555 111, or online at crimestoppers-uk.org.