Builder Convicted Of Murder
3 February 2014, 17:23 | Updated: 3 February 2014, 18:23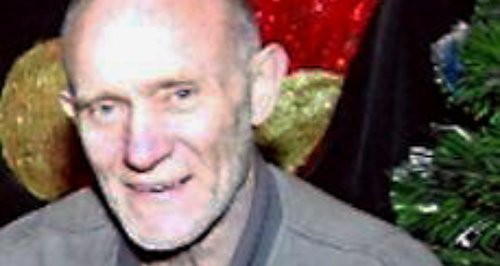 A builder who battered and stabbed his ex-girlfriend's father in Hemel Hempstead and then set his body alight has been convicted of murdering him.
James Carbott, 31, beat Thomas Baird (pictured) with a crow bar and stabbed him with a Stanley knife inside his bungalow.

He left, but returned and doused petrol on 63-year-old Mr Baird, who lying on his doorstep and was either dead or dying, and set his body alight.

Prosecutor Stuart Trimmer QC told St Albans crown court that Carbott had split up from Mr Baird's daughter Kelly in October 2012, five months before the killing.

When Carbott, who had worked as a builder for Mr Baird, moved in with Kelly he had diverted the electricity supply, so that it bypassed the meter. After he left Mr Baird wanted him to correct the wiring.

James Carbott promised to meet Thomas Baird on the Tuesday before he died, but rang to cancel. He was then supposed to call him on the Thursday, but did not.

Mr Trimmer said the defendant's behaviour seriously annoyed Mr Baird, who spoke to friends and relatives and threatened violence to Carbott and said he would damage the home where he lived with his mother.

In response to messages left by Mr Baird, Carbott went to his terraced bungalow in Westerdale. There he attacked him with a knife and crowbar before setting him alight.

A post mortem examination revealed 17 cuts and stab wounds to the head, face and neck. There were also stab penetrations fracturing the jaw. The voice box was fractured. It may have been caused by severe gripping, but is more likely to have been due to kicking or stamping whilst on the ground.

There were nine stab or puncture wounds and grazes to Mr Baird's trunk and six stab wounds, cuts or grazes to his upper limbs.

Pathologist Dr Nat Carey found internal bleeding in the brain and evidence of blunt impacts including one very forceful blow to the right side, causing fracturing of the vault and base of the skull.

There was burning to his head, trunk and legs. A lack of soot inhalation suggested Mr Baird was either dead or dying at the time he was set alight.

Carbott was arrested at ten to five the following day and told the police: "What's this got to do with me? I haven't been anywhere. All I have done is walk my dog. I have been at my mum's."

He made no comment in four police interviews, but gave the officers a prepared statement through his solicitor in which he said Mr Baird had left threats to him and his mother on his voicemail. He said he did not want him threatening his mother and went to Mr Baird's home.
When he went to the door he said Mr Baird appeared with a crowbar and a knife and said: "J - have this" and pushed the knife towards him. He said there was a struggle in which he disarmed him and caused injuries. In the statement Carbott admitted he had started the fire because he was scared.

He said he had left the scene in his silver Mondeo estate and headed to a farm track on the Redbourn Road near Woodend Farm where he burned his clothes and the petrol and threw the Stanley knife and crow bar in a ditch.

Carbott of Epping Green, Hemel Hempstead pleaded not guilty to murdering Mr Baird between Friday 1 March and Saturday 2 March 2013 and also denied arson being reckless as to whether life was endangered. The jury of eight men and four women convicted him of murder by a majority of 10 to 2. They unanimously convicted him of arson.
A shout of "Yes" was heard from the public gallery when the murder verdict was delivered. Carbott, who was dressed in a suit and tie, kept his head bowed.

Giving evidence Carbott said Mr Baird was a "good laugh." Asked by his barrister Richard Carey-Hughes how they got on, he replied: "Fine. We used to got out drinking, watch football and go to the pub. He was a good laugh. He was ok."

He said he suffered anxiety and depression after being attacked in 2007. He had also been diagnosed with Autistic Spectrum Disorder. "I had suicidal thoughts. I used to self-harm a lot. I was always planning in my head to kill myself," he said.

He said he had known Thomas Baird for two years before he died and had been "best friends" with his son Tommy Baird. But Tommy did not speak to him again after Carboot had hit him when he intervened during a row Tommy was having with Kelly.

After Mr Baird died and he was remanded in custody Carbott said he had nightmares and flashbacks. "I was waking up screaming. It was terrifying," he said.

Defence barrister Richard Carey-Hughes argued that Carbott should not be convicted of murder, but had acted in self-defence or was guilty of manslaughter because he was suffering from diminished responsibility and had a temporary loss of control.

Judge Andrew Bright QC told the jury Carbott will receive a mandatory life sentence when he returns to court on or after 27 February 2014. The judge will then decide on the minimum term Carbott must serve before he can apply for parole.

Carbott will receive a life sentence when he returns to court on or after 27 February.