Cancer Diagnosis Delays
4 February 2014, 12:34 | Updated: 4 February 2014, 15:16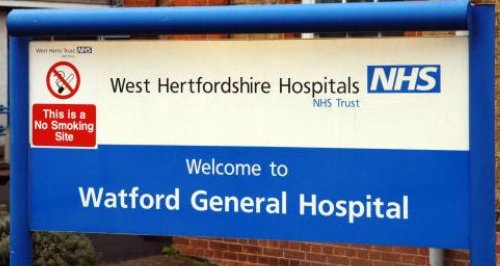 Two members of hospital staff have been suspended after an investigation uncovered delays in West Hertfordshire in people being diagnosed with cancer.
The West Hertfordshire Hospitals NHS Trust, who run Watford General Hospital, St Albans City Hospital and Hemel Hempstead Hospital have been looking into the way people with suspected cancer have been cared for.
A review was launched after their new management team discovered NHS guidelines were not always being followed.
The investigation has found at least three people were subjected to delays in being diagnosed with cancer because the proper processes were not followed. One of these has since died, and the Trust say their "clinical view is that a delay in seeing the patient may have contributed to their death."
More than 120 other people who have been checked out for suspected cancer have been told their care is being reviewed, because mistakes may have been made. They are being told they will be contacted as soon as the Trust know the outcome of the review.
Another 686 patients have been told there are no clinical concerns about the care they received.
The review covers people who were initially referred for urgent appointments between January 2010 and November 2013. It showed that the West Hertfordshire Hospitals NHS Trust had discharged some patients when they had failed to turn up for a first appointment. That goes against NHS rules, which say patients should be offered a second appointment.
The Trust say they have apologised to the 121 people whose cases are still being reviewed, for "not being able to offer further clarity at this stage and for any anxiety this may cause."
They say "we have committed significant resource to the review, but due to its complexity it is taking us time to complete correctly."
All patients concerned have been written to but the hospital have today set up a hotline for anyone worried: 01923 217100 (open seven days a week 8am-8pm).
Reaction
In a statement, Hemel Hempstead MP Mike Penning said: "I am shocked to learn that Hemel Hempstead cancer patients have been allowed to slip through the net due to the incorrect use of procedures. They have been badly let down and it is very upsetting.

"What particularly concerns me is that the problems began under the previous chief executive who has since been promoted to a high-profile role at Great Ormond Street Children's Hospital. A national review is needed to make sure that the problem is not being repeated elsewhere and that no more patients are let down in this way.

"I commend current Chief Executive Samantha Jones and her team for discovering the problem and facing it head on to ensure that no more patients suffer the same break-down in their care."