Corrupt Police Officer Jailed
4 February 2014, 16:09 | Updated: 4 February 2014, 16:17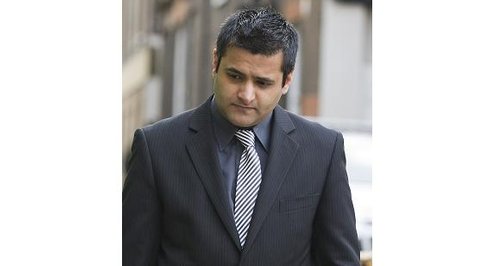 A corrupt Hertfordshire police officer who gave drivers on-the-spot speeding fines so he could keep the cash himself has been jailed.
Irfan Hussain (pictured) stopped one driver and "fined" him £30 after realising he had left his wallet at home and had no money for his lunch.

The crooked cop was jailed for a year when he appeared at Luton Crown Court on Monday 3 February 2014 to plead guilty to dishing out his fines.

The court heard three motorists each handed over sums of £30 after being told by the officer it was a way they could avoid getting penalty points.

Hussain, 35, a married father of young daughter, had been a police officer with Hertfordshire constabulary for 10 years when he became corrupt in August 2013.

Luton crown court was told he had committed the offences after suffering stress from a number of distressing cases that he had been involved in, including the suicide of two young people on railway line in the county.

But in jailing the ex cop today Judged Richard Foster "At the heart of policing in this country by consent is public trust."

The judge said the trust was based on the public believing in the integrity of police officers.

He went on "That has been called into question by your conduct. What you have done is not just let yourself and your family down, but the entire police service."

Irfan was living with his wife and daughter at the time of the offences Canterbury Way, Stevenage, and his duties regularly found himself as a traffic officer driving his marked police car in the south of the county.

He pleaded guilty in court today to misconduct, three offences of fraud and three offences of doing an act tending or intended to pervert the court of just.

The offences represented three separate occasions when he succeeded in getting two motorists and a motorcyclist to hand over £30 on the spot fines and one attempt with another driver.

The offences had occurred during five day period in August 2013.
Hussain was caught after one of the drivers was suspicious about what had happened and contacted the policeman's bosses at Hatfield Police Station.

Daniel Siong prosecuting said officers from Herts Police's anti corruption unti asked the driver to make a phone call to Hussain which was recorded.

During the call the officer admitted stopping the man and receiving his £30.

On 28 August 2013 he was arrested.

The court was told it was late at night on 22 August that Hussain had stopped a driver Daniel Kitchener in Sandy Lane, Bushey for speeding.

On that occasion the officer told the driver could avoid point by paying him immediately a £30 fine, but when he learned the man didn't have the money he let him off.

However 40 minutes later in Magpie Hill Road, Stanmore he stopped driver John Philpott in his Ford Mondeo for speeding and took £30 off him.

On 26 August in Elstree Way, Borehamwood Hussain stopped a car telling the driver he had been doing 40 miles per hour and the speed limit was 30 As a result he got another £30.

Then on 27 August he pulled up a motor cyclist who was not displaying L plates.

Yet again he succeeded in get the man to hand over £30.

The court was told it was as a result of the driver who had been stopped on August 26, contacting police that Hussain was arrested.

The court was told that following his arrest Hussain has been dismissed from the force and he and his family have moved to Larch Close in Teignmouth, Devon.

Mr Mian Naeem defending said "The fall from grace of Mr Hussain has not only been dramatic but catastrophic and tragic"

He said the former officer had had the task of saying goodbye to his five year old daughter and telling her he would not be coming back.

"He has had to say to her he is no longer one of those individuals who catches bad people, he has become one of those people himself.

Mr Naeem said the defendant had, shortly before his offending, been deeply affected by the case he had had dealings with concerning the suicide on a railway line of a 15 year old girl and her boyfriend.

The barrister said around that time he had been involved in another death of a young child who had suffered a fit.

Mr Naeem said Hussain now felt shame and remorse over what he'd done.

The judge jailed him for a year saying custody was inevitable.

After the case Deputy Chief Constable Alison Roome-Gifford said "Irfan Hussain failed to live up to the high standard of conduct expected of staff who serve with Hertfordshire Constabulary and has now been imprisoned for his disgraceful conduct.

"The public rightly expects police officers to act with integrity at all times and for action to be taken when they do not. This officer betrayed the trust placed in him by the public and his colleagues and is now living with the consequences."