Four Escape Pub Fire
16 July 2013, 10:53 | Updated: 17 July 2013, 08:12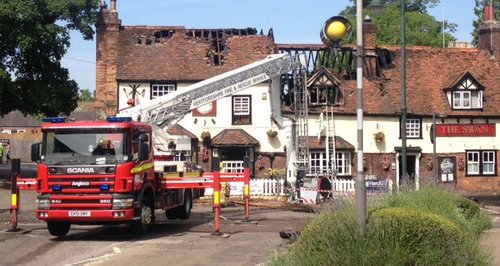 Four people have managed to escape from a fire at a 500 year old pub in Hertfordshire.
It started in a bedroom of The Swan on the High Street, Wheathampstead, at 5.40am on Tuesday 16 July 2013.
Two fire engines were called out initially before more were called in.
Station Commander Jonathan Smith told Heart, "The main bulk of the damage was in the central part of building on the first floor and in the roof space and also on one side of the building the first floor and the roof space is heavily damaged. However because we were able to get resources on scene very, very quickly and carry out an effective attack we have managed to save one whole section of the building."
Investigations are now underway to work out how the fire started.