Luton Airport 75th Anniversary
16 July 2013, 06:00 | Updated: 16 July 2013, 10:44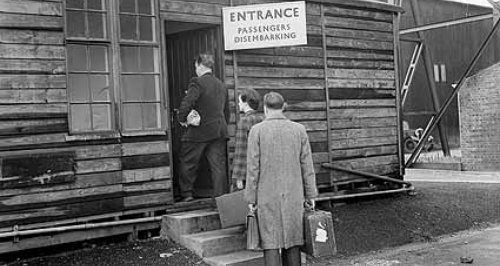 Celebrations have been taking place to mark Luton Airport's 75th birthday.
On 16 July 1938, "Luton Municipal Airport" was opened by the then Secretary of State for Air, the Right Honourable Kingsley Wood.
During the Second World War, Luton Municipal Airport was used by the Royal Air Force and was the base for 264 Fighter Squadron. It became the birthplace and home of affordable air travel from the 1950s onwards, and was renamed London Luton Airport in 1990.
Today, Luton is the fifth largest Airport in the UK, carrying approximately 10 million passengers per year.
A Service of Dedication was held on Tuesday 16 July 2013 by the Airport's Chaplain, Rev'd Michael Banfield. A reception was also hosted by the Managing Director, Glyn Jones. The Mayor of Luton, Councillor Sheila Roden, and Deputy Lieutenant of Bedfordshire, Dr. David Siegler, were among those who attended.
A Brief History
Officially opened by the Right Honourable Kingsley Wood, Secretary of State for Air, and John Thomas Harrison, Mayor of Luton, on 16th July 1938
Luton was used by the RAF as a base for 264 Fighter Squadron during WWII
The Percival Aircraft Company built a series of civil and military aircraft - including the Mosquito fighter bomber - "The Wooden Wonder" under licence from De Havilland
During the 1950's & 1960's – the birth of 'package holidays' enabled many to travel abroad for the first time
By 1969, a fifth of all holiday flights from the UK departed from Luton Airport
By 1972, the Airport was UK's most profitable
In 1985, a new international terminal building was opened by HRH The Prince of Wales
In 1990, Luton International Airport was renamed London Luton Airport to reflect its true standing in the London airport network
In 1995, the Airport pioneered the concept of 'low cost' or 'no frills' flying by becoming the first UK base for easyJet
In 1999, an £80 million development programme was completed, including a new £40 million terminal building opened by HM The Queen and HRH The Duke of Edinburgh
Glyn Jones, Managing Director of London Luton Airport, said: "Since the first commercial aircraft departed from here in 1938 the Airport has changed beyond recognition, though its ambition, along with its airline partners, to keep moving into the future remains constant.
"Everyone involved with the Airport has worked hard to make it one of the fastest growing in the UK, creating over 8,000 jobs and opening up new frontiers for our passengers.
"We should all be truly proud of what has been achieved, and be encouraged by what we can further achieve in the future".