Luton Killer Jailed For Life
2 May 2014, 17:09 | Updated: 2 May 2014, 17:14
The brother-in-law of May Evans, who last week pleaded guilty to her murder, has been jailed for life with a minimum term of 22 years.
John Evans (pictured) 57, of Thames Court, Trent Road, Luton, appeared at Luton Crown Court today (Friday May 2) having previously admitted the killing of 70 year old May Evans on November 18 last year.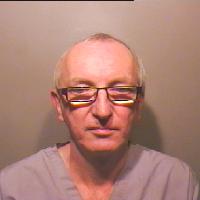 May had only married John Evans brother David six weeks before her death.
John Evans attacked May with a knife as she sat behind the wheel of her car in Trent Road, Luton, on her way to collect her grandson from school.
Members of the public managed to intervene and apprehend John Evans at the scene while also fighting heroically in an attempt to save May's life. Sadly her injuries were too severe and she was pronounced dead at the scene 45 minutes after the attack.
Ahead of today's sentencing, Judge Michael Kay QC had already told John Evans at a previous hearing that he could expect a life sentence. After listening to submissions from the prosecution and defence counsels Judge Kay confirmed the life sentence and set a minimum term of 22 years taking into account the time already spent on remand.
Speaking after today's sentencing the Senior Investigating Officer Detective Inspector Dave Grierson from the Bedfordshire, Cambridgeshire and Hertfordshire Major Crime Unit said: "Sadly, nothing can change the traumatic events of November 18 when May, on a day like any other, left her home to go and collect her grandson from school.
While I am pleased that May's family have not had to go through the trauma of hearing evidence at a trial due to John Evans guilty plea, it does not take away the fact that the lives of so many have been changed forever by what happened.
I hope that May's family and friends can take some comfort from today sentencing as they attempt to rebuild their lives and future without her."
After passing sentence, Judge Kay took time to praise the bravery of three members of the public who intervened on the day – one of who negotiated with John Evans before the other two wrestled him to the ground – and rewarded them £250 each.
Family Statement
"May was a lovely, happy, caring woman who would always do whatever she could to bring a smile to other people's face. She loved her family and adored her two grandchildren who have been left devastated by her passing.
May had found happiness herself for a second time in her life and had married David just six weeks before her untimely death. This should have been a new beginning for May and David and they had so many happy adventures planned and were thoroughly looking forward to embracing their lives together.
Sadly, David has been left without his wife while the rest of the family is without a mother, grandmother, sister and auntie.
Our lives will never be the same again but we are so grateful to have had such a shining light play such an important role in our own lives and we will continue to treasure those memories forever."
David Evans, May's husband, added: "I would like to take this opportunity to thank all of the people who were in Trent Road on that fateful day and came to my wife's rescue.
People showed extreme bravery and courage in getting to May and trying desperately to save her life and we as a family cannot be more grateful for all of those efforts.
This was a horrendous act but seeing the community coming together to help May and receiving so many beautiful messages about her truly reaffirmed my faith in humanity and I thank you all.
We would also like to thank the police for all of their help and support during this very difficult time. Our Family Liaison Officer Mel Telford has been fantastic throughout the entire process and is a true credit to the force.
All that we ask now is to be given the time and space to continue grieving the loss of May and try to begin rebuilding our lives without her."