New CCTV Images Of Murder Suspect
11 June 2013, 16:00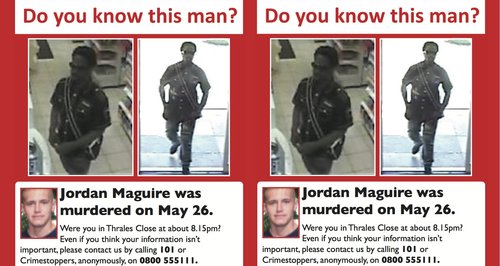 Police investigating the murder of Jordan MaGuire have released new, clearer images of a man they want to speak to.
The 20 year old was stabbed on May 26th at his home in Thrales Close in the Marsh Farm area of Luton.
These new images were taken from CCTV at the Nisa store three hours before the murder.
They show a black male in a short sleeved dark colour shirt with a bag across his body.
He's also wearing dark coloured sunglasses.
Detective Inspector John Arthur told Heart:
"Anybody who knows this man should be able to identify him- we would urge them to come forward to the police, let us know who this man is and where he lives. Do not approach him directly.
"Equally to the man himself, if you see the images we would urge you to come forward, come to the police and speak to us"
This is the same man who can be seen in the footage released last week who was pushing a white bike through the Purley Centre on the way to Mr MaGuire's house.
Bedfordshire Police are asking for anyone who recognises the man shown here to call them on 101 or call Crimestoppers on 0800 555 111.