Pot-Holes To Be Filled By Robot Arm
25 April 2014, 06:00 | Updated: 25 April 2014, 11:54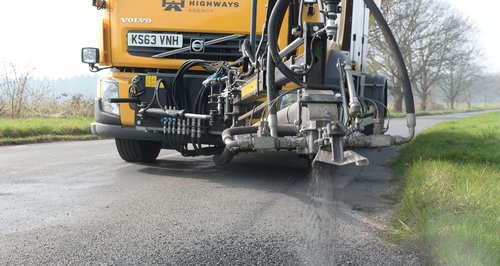 After successful trials across the East, new cutting edge robotic technology is going to be used to fill the region's pot-holes.
Contractor Amey is rolling out three state-of-the-art road maintenance vehicles after investing £500,000 on two "road patchers" which can fix potholes within two minutes, and a high-speed sweeper.
The custom-built road patchers can be fully controlled from the cab - removing the need for a road worker to be in the carriageway but also is great news for drivers as the pothole is fully fixed in just two minutes, rather than the hour that conventional methods can take.
The driver operates a robotic arm which extends from the cab over the pothole and fills it with material to fix the hole. The patcher can then move onto another location as needed.
The other new piece of kit - is a high speed road sweeper - which is brand new to the UK - instead of sweeping the road at slower than walking pace - it can sweep and move at more than 10mph.
The Swedish-built unit will allow the network to be swept more regularly, improving both its condition and road-user safety with less deterioration and surface flooding of the roads.
Margaret Seear, Business Director for Amey said: "Things like potholes can be a real headache for drivers and we are pleased to provide an efficient and cost-effective solution that has real benefits for our customer, our employees and road users."
Under the five-year contract for "Highways Area 6" Amey will be responsible for improving and maintaining routes through Norfolk, Suffolk, Essex and parts of Cambridgeshire.
"Area 8" covers Cambridgeshire, Hertfordshire, Bedfordshire and Milton Keynes.