Toddler's Ashes Stolen
5 September 2013, 15:59 | Updated: 6 September 2013, 11:19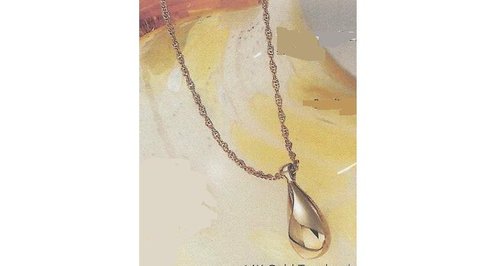 A family from Bedfordshire have been left heartbroken after the ashes of their two year old son who died four years ago were taken in a burglary.
Between 2.45 and 4.50pm on Wednesday 4 September 2013, burglars broke into a house in Linwood Grove, Leighton Buzzard, by forcing open the front door.
Bedfordshire Police say it appears that a search of the property was carried out but nothing was taken apart from several items which were left in a shrine that had been set up to remember the victim's son, who died four years ago.
Taken from the shrine was a gold necklace with a gold teardrop pendant which has a small screw at the back, like the one shown in the picutre. The pendant contained the ashes of the victim's son Daniel. The victim - Kelly - works in Watford.
Also taken was a gold necklace with a heart shaped charm and a T-bar through the heart with the word 'Mum' written underneath. This was the last Christmas present given to the victim by her son before he died. Also missing from the house was a gold bracelet inscribed with the word 'Mum' which the victim received from her daughters.
DC Rachel Chandler from Bedfordshire Police, who is investigating the burglary, is keen to hear from anyone who may have seen anything suspicious in the area during the times mentioned or from anyone who may have been offered any of the jewellery.
DC Chandler said: "This burglary has been extremely upsetting for the victims given the huge sentimental value that the possessions stolen contain and that the anniversary of Daniel's death is just a fortnight away.
"The offenders probably had no idea about what they were taking but I would appeal to them, or anyone who may have come into possession of these items, to hand them over to the police as quickly as possible so that we can reunite them with the family at this very difficult time.
"I would really like to hear from anyone who was in the area at the time of the burglary or from anyone else who may have information – however small or insignificant they think it is – that could help us. Don't dismiss your information as unimportant – even tiny details which don't seem relevant now might become useful later on in the investigation."
If you have information relating to this incident, contact DC Chandler, in confidence, on 01582 394099, the non-emergency 101 number, or text information to 07786 200011.
Alternatively contact independent charity Crimestoppers, anonymously, on 0800 555 111, or online at crimestoppers-uk.org.