Train Deaths Families Release Statements
20 June 2013, 15:46 | Updated: 20 June 2013, 16:01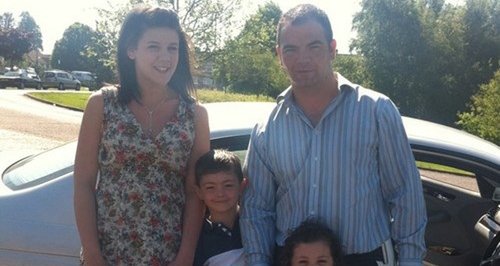 The families of the two teenagers who died on the railway tracks near Elstree & Borehamwood Station on Monday night have been speaking about their children.
18 year old Mert Karaoglan and 15 year old Charleigh Disbrey both went to Hertswood Academy in Borehamwood.
Investigations continue into the deaths and inquests will be held in Hatfield at a later date.
In a joint statement released through British Transport Police (BTP), Charleigh's father Matthew, 31, and mother Sandie, 30, said: "We will never fill the hole that has been left in our hearts and in our lives. Charleigh had two loving and caring families who will miss her every minute of everyday. "We cannot put into words the devastation and loss we all feel. You will be forever loved and missed our Princess, our Angel. Our thoughts are also with Mert's family at this incredibly sad time."

Matthew Disbrey said: "Charleigh, you were my friend, my daughter and my rock - I don't know what I should do without you. Daddy will always love you Princess."

Sandie Barnes said: "My beautiful Charleigh, you weren't just my truly amazing daughter, you were my best friend. I love you so much and you will always be Mummy's Angel."
Mert's father, named by the Sun as Sakru, 48, spoke of his confusion and grief at his son's death. He told the newspaper Mert had been watching TV in Borehamwood when he said he was "going out for one or two hours''.

He said: "We told him not to be out late. We were waiting and waiting. Then the police came round to see us at nine this morning. I can't stop crying." He added: "He was a happy person - everything seemed okay.''

Mert, reportedly a budding film-maker, and Charleigh, an aspiring musician, were killed when struck 200 yards from Elstree and Borehamwood station by an empty passenger train travelling from St Albans to Sutton.

At least one suicide note is believed to have been found at the scene, it was reported, and British Transport Police (BTP) were not treating the deaths as suspicious.

The pair, from Borehamwood, attended the local Hertswood Academy, where Mert was in Year 13 and Charleigh in Year 10.

The academy's head teacher, Peter Gillett, said: "As a close community, obviously we are devastated by this tragedy. Both students were talented, hard-working and well-respected members of our academy. Our thoughts are with their families at this most difficult time. We are supporting our students and staff in coping with this terrible loss."

Floral tributes to the teenagers and cards were left outside the school's gates. One card read: "To Mert, thinking of you always, bless your soul and may you rest in peace friend." Another read: "Sleep tight angel. RIP CJ and Mert, never forgotten."

Friends of the pair took to social media to express their shock and grief.

Writing with the Twitter name @lav_gecaj27m, one girl said: "R.I.P Cj and Mert such wonderful and talented people, you will be truly missed xxxxx."

Another girl, @CoverGirlLi, wrote: "still can't believe it. Rip Mert and CJ," while @ShannReade said: "Situations like this just do not make sense, RIP Mert and CJ."

The incident was reported to BTP at 8.57pm on Monday, 17 June. Police and medics attended but sadly the two teenagers, both from the Borehamwood area, were pronounced dead at the scene.

The train, which did not have any passengers on board, was a St Albans to Sutton service.

Detective Inspector Andy Rose said: "Our thoughts remain with Charleigh and Mert's families and friends – clearly this remains a desperately difficult time for them. While the incident is being treated as non-suspicious, my officers and I are continuing our investigation and working to put a file together for the local Coroner. The inquest into Charleigh and Mert's deaths will be held at Hertfordshire Coroner's Court, in Hatfield, at a future date."

Anyone who witnessed the incident, or who has further information about the incident, is urged to contact British Transport Police on 0800 40 50 40 quoting B8/LNA of 18/06/2013.