Women's Tour Cycle Route Today In Herts
10 May 2014, 06:13 | Updated: 10 May 2014, 08:17
The penultimate leg of The Women's Cycling Tour gets underway in Hertfordshire this morning.
The race will start in Cheshunt and pass through towns like Letchworth and Baldock on to the finish line in Welwyn Garden City.

In the race is the double Olympic Gold Medallist Laura Trott, who used to be a member of the Welwyn Wheelers Cycling Club.

Heart asked her if there'll be more pressure in front of a home crowd: "I guess in a way yes, but, for me I'm a team player - I work for Giorgia Bronzini, she's our sprinter so I play a role - a support role for her.
ROADS
For the majority of the stage, aside from roads close to the start and the finish, a rolling road closure is in place, meaning the roads will only be closed for the short period the race passes by – usually around 10 to 15 minutes around the estimated time of arrival and indicated by police escort vehicles. The race starts in Cheshunt and goes through Hertford, Buntingford, Baldock and Letchworth Garden City before the finish. To see the entire race route click here.

These are the key areas and anticipated times:

Cheshunt 11:30am

Hoddesdon 11:47am

Hertford Heath 11:57am

Hertford 12:01pm

Cold Christmas 12:13pm

Buntingford 12:47pm

Baldock 13:09pm

Great Wymondley 13:20pm

Codicote 13:38pm

Welwyn 13:41pm

Digswell Hill 13:46pm

Welwyn Garden City 13:50pm
FINISH LINE - details of the closures in Welwyn
Parking will be suspended on Parkway between John Lewis and Sainsbury's, and on Howardsgate (both sides), Stonehills, Fretherne Road and Wigmores North from 12 noon on Friday 9 May to 7pm on Saturday 10 May.

There will be full road closures between 5am and 7pm on Saturday 10 May on:


Southbound carriage of Parkway between John Lewis and Sainsbury's
Wigmores North
Howardsgate (both sides)
Stonehills
Fretherne Road

There will be further road closures between 12.30pm and 3.30pm on:


The Campus
Bridge Road
Brockswood Lane
Northbound carriage of Parkway
Digswell Road

Sainsbury's will be open as usual, although you will only be able to leave via Church Road to Parkway and not towards Osborn Way, and John Lewis car park will also be open as usual.

The town's taxi rank will be moved from its current location to the one hour parking bays on the opposite corner to John Lewis on Wigmores North.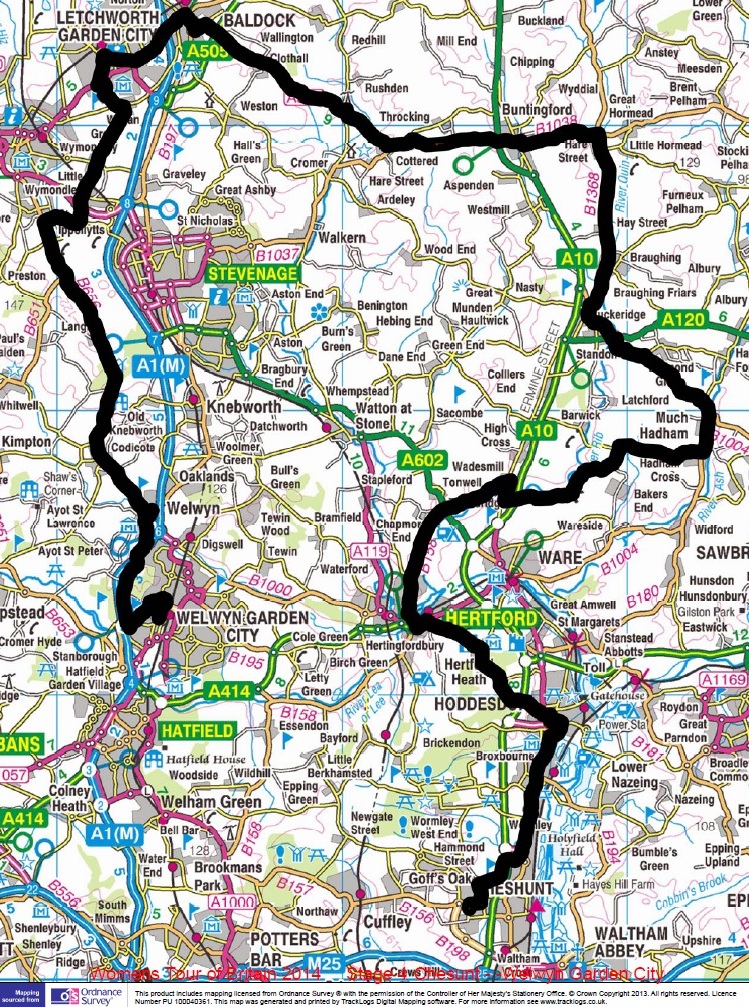 General advice to residents from Hertfordshire County Council:

- Do not stand on the road

- Stand/sit well back from the edges of the road. Cyclists will often use the edges of the road to overtake

- Do not attempt to touch riders

- Do not hold objects in the path of riders during the race i.e. flags or cameras

- Do not leave or throw any objects onto the road

- Monitor children and prams at all times. Prams should not be left by the edge of the road

- Keep pets on a leash and well back from the road at all times

- Please take all rubbish with you