East Anglia Storm Surge: The Latest
6 December 2013, 16:39 | Updated: 7 December 2013, 09:02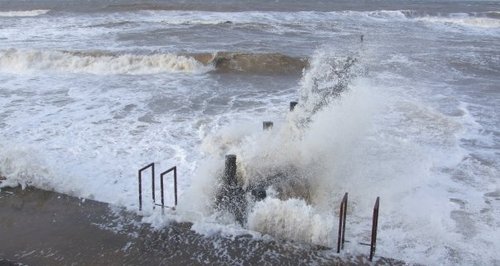 The latest on the storm surge as it moves across the Norfolk and Suffolk coastline.
9am Saturday The Clean Up Begins

A clean-up phase is now underway to return the Norfolk and Suffolk to normal as quickly as practically possible. Partner agencies including the County Councils, district councils, Fire and Rescue Service, the Environment Agency and police are working together.

All necessary work will be carried out to enable schools, used as temporary rest centres, to re-open to pupils and teachers on Monday 9 December.

Councils are now advising residents affected by the flooding are now returning to their homes but are being advised to only return if it is safe to do so.
Flood defences are now being checked to see what repairs need to be done.

The public is being asked to stay clear of areas along the coastline damaged by the storm which could pose a danger, particularly if they see agency staff working as part of the clean up operation.

The response of the emergency services and the public is being praised by Great Yarmouth MP Brandon Lewis.
4pm: Residents told they can return home
Thousands of residents are being advised that there is no longer a need for them to stay away from their homes.
All partner agencies have agreed, following advice from the Environment Agency, that a phased return can begin with mutual aid support being stood down.
The second high tide didn't lead to any major incidents so the closure of rest centres will now be staggered to ensure residents and property owners can return in a safe manner.
There's still a potential for normal winter flooding to affect certain areas and in particular the Broads river system. Some flood defences are described as "battered and bruised" with agencies assessing the need to repair any potential damage over the coming days.
Emergency services will continue to offer assistance to vulnerable members of the community who may need help and local authorities will now be offering transport and support for those few residents unable to return to properties affected by flood damage.

Public Heath advice includes:
Take care with electrics and gas: do not switch on electrical appliances that have been in contact with floodwater unless a competent electrician has checked them, as there is a risk of electrocution.
Keep children safe: keep children and pets out of the affected area until the clean-up has been completed.
Remember to wash your hands thoroughly after each clean-up session and always before eating or preparing food. Do not eat food that has touched flood water.
Put on protective clothing: rubber boots, an apron and waterproof gloves. A standard face mask, such as those sold in DIY stores, is also a good idea if you are scrubbing, hosing or pressure-washing. Goggles offer added protection and they can be reused after thorough washing. Cover any open cuts with waterproof plasters.
Using clean water, detergent, then a normal kitchen disinfectant, clean and disinfect work surfaces, plates, pans, cutlery, and plastic/glass chopping boards, before preparing food.
Powerful disinfectants, such as strong bleach are not necessary and may be harmful to surfaces.
Thoroughly clean all other affected hard surfaces, including walls, hard-surfaced floors and furniture with hot soapy water, using an ordinary household detergent. Allow to dry thoroughly as this will also help to destroy germs left behind.

For frequently asked health questions related flooding click here

For general advice and public information after flooding click here

John Ellis, Norfolk County Council's, Chair of the Norfolk Resilience Forum Programme Board, supported the decision saying: "Thankfully, the second tidal surge this morning was not as severe as initially anticipated which means that people can now begin to return home to their properties.

"There may still be some hazards caused by flooding and we would remind people to continue to listen to the advice of the emergency services and heed the ongoing public health information to ensure that they stay safe.

"Support will be available for more vulnerable residents to ensure that they can return home safely. Plans are also in place to support anyone who is unable to return home due to the flood or storm damage."

Agencies are now at a stage where the emergency response to the flood risk is reducing with emergency services looking to hand over to local authorities as they help manage the aftermath.
6.54am: Police are warning that the flooding is not over yet and that people are still at risk. Hunstanton is a particular concern where the shingle bank has been washed away.
Further high tides are expected at 8am in King's Lynn, 8.30am at Cromer, 8.41am at Wells and 10.44am at Great Yarmouth.
Tonight's predicted high tides are: 8.44am at King's Lynn, 8.36am at Cromer, 8.52am at Wells and 10.31am in Great Yarmouth.
6.00am: 27 people have been rescued by Suffolk Fire and Rescue overnight. The ambulance service have also been helping move people from flood risk areas.
The following roads are still closed:
A12 at Blythburgh
Bridge Road, Snape (Outside the Crown PH)
London Road South, Junction with St Johns Road, Lowestoft
The Strand, Wherstead.
3.20am: Some roads in Great Yarmouth have reopened - Haven Bridge, Acle new Road & the Acle Straight.
The A12 is still closed at Blythburgh and the A143 is only just passable at Haddiscoe according to police.

2am: From Norfolk Police: Cromer Pier has been closed this evening, in the interests of public safety, as a result of damaged sustained during this evening's storm.
Elsewhere in North Norfolk, rest centres in Holt and Wells are now shut as they are no longer needed.
The Lighthouse at Walcott remains open and is busy and, as a result, people are being directed, where possible, to Stalham Sports Hall where there is more capacity.
Currently there is a total of 50-60 people based at the Stalham and Walcott centres.
There has been some damage to shops and cafes in Wells, but shop owners are aware and premises are being boarded up.

1.30am: A local authority rescue centre has been set up in Ipswich as unusually high water is expected in the town.

The high tide hit Lowestoft and other areas of the Suffolk coast on the evening of Thursday 5 December and is expected to hit Ipswich at around 2am.

Police officers are in the process of visiting homes in the area of the town that are potentially at risk.

A local authority centre has been set up at Maidenhall Sports Centre on Maidenhall Approach, Ipswich, IP2 8NZ.

1am: Police in Yarmouth are urging 'sightseers' – who are placing their safety at significant risk – to avoid the seafront and North Quay areas of the town.
Police are highlighting three main areas of concern:
People still trying to drive and walk across the flooded area of North Quay, which is now closed because of significant water ingress. Pedestrians, in particular, are at risk from walking through the flood water, which can conceal open manholes and dangerous obstructions, with the water frequently containing sewerage.
In the Gorleston area, from Riverside Road to the Ocean Rooms, and on to the beach and amusements, large crowds – including people with small children on their shoulders – are gathering very close to the seafront. There are serious concerns for their safety and police officers will be visiting this area to urge these groups away from danger.
Haven Bridge is also now closed and people are standing on the bridge trying to get a better view of the flooding.
Chief Inspector Kate Thacker said: "Some of these people have no concept of the danger they are putting themselves in and we are urging pedestrians to keep away from the flood water and sea front and for traffic to avoid the town centre.
Acle New Road, between Breydon Bridge and North Quay has also recently been closed to traffic as a result of flood water.

12.05am: Flooding has now well and truly reached Ipswich, police are reporting flooding in Ipswich on Neptune Quay, Burrell Road & Commercial Road.

11.35pm: The storm surge is heading to the Felixstowe area now and villages along the river Orwell are being hit. The Strand in Wherstead is closed and cars are trapped in the flood water.
The centres of Lowestoft and Great Yarmouth are underway even quite a way from the seafronts.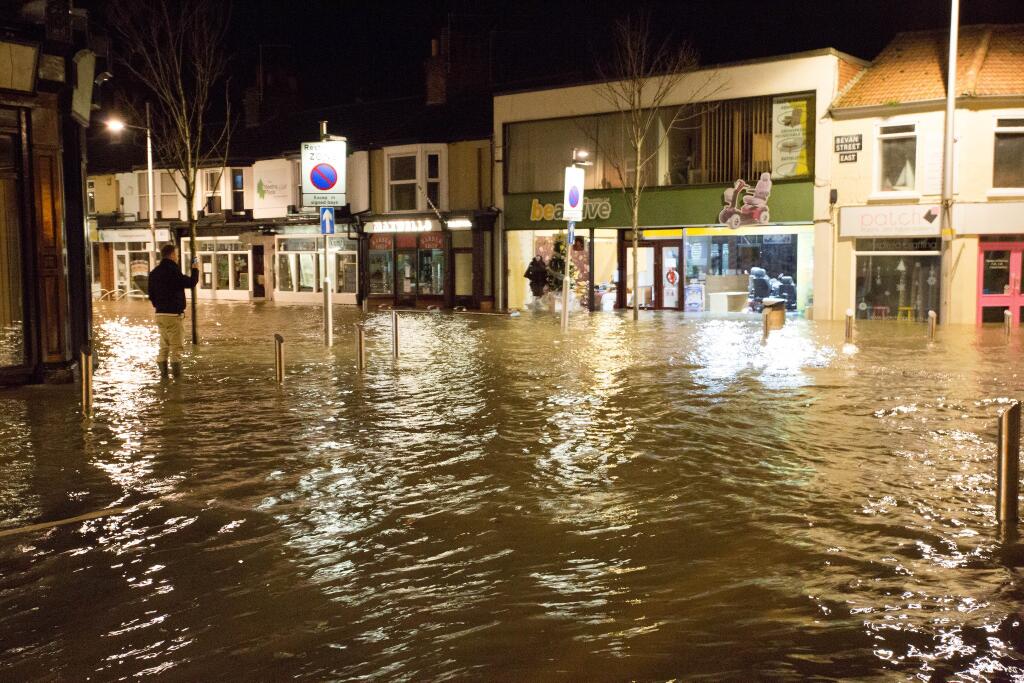 10.35pm The A12 is closed at Blythburgh because of flooding.

10.30pm Traffic now being prevented from crossing Bascule Bridge in Lowestoft by the police because it's too flooded to get access at both ends.

9.40pm: The tidal surge expected later tonight is likely to arrive up to an hour earlier than predicted – and may be slightly higher.

The next high tide at Lowestoft and Great Yarmouth was expected at about 10.30pm to 11pm so the highest could hit any time now.

The tidal surge hit parts of Norfolk about an hour early – and in some cases has been 200-300mm higher than estimated.

Police officers have now finished knocking on the doors of residents whose properties are likely to be affected as they are within the 14 areas subject of severe flood warnings by the Environment Agency.

9.30pm: Water is receding from the Wells Quay as the storm surge moves south toward Great Yarmouth and Lowestoft

8.00pm: Shops in Wells-Next-The-Sea are flooded along the Quay front.
7:40pm: People in Great Yarmouth are still filling sandbags to protect their homes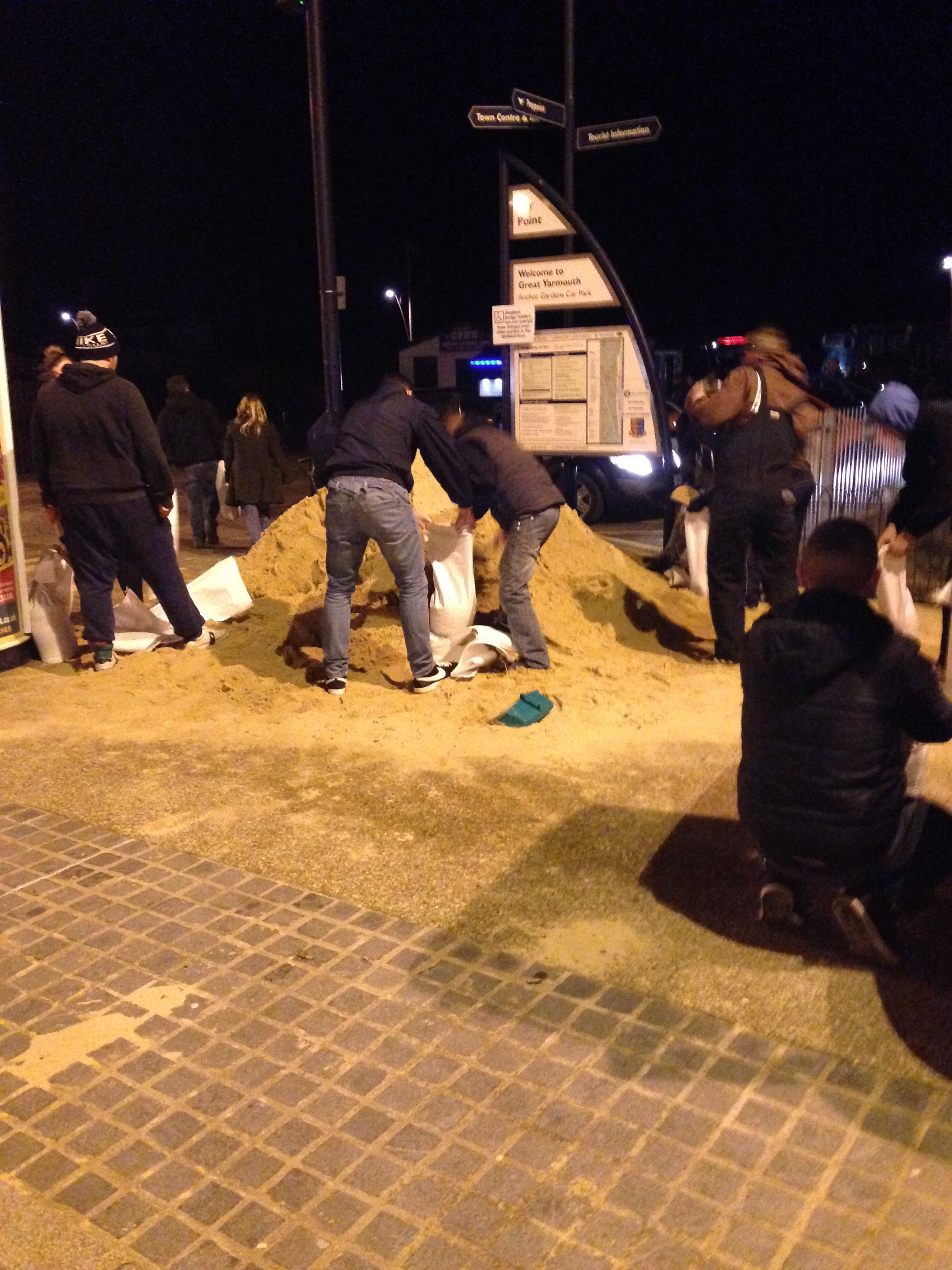 6.50pm: Some schools are closed tomorrow because of severe weather.
To find a list of closures in Norfolk click here
To find a list of closures in Suffolk click here
6.15pm: All Your Q & As Answered
What time are we advising evacuation from?
Any households affected will be contacted in person in due course by a flood warden or a police officer.
What are the roads affected ?
The South Quay car park in King's Lynn along the quay side will be closed from 3pm. Anyone parking their car is asked to remove it before this time.
Roads due to be closed in such areas include South Beach Road in Hunstanton (from the top of the road at Oasis Way roundabout), Jubliee Road (near North Beach and the flood defence) and South Beach (near the flood defences) in Heacham and Beach Road in Snettisham.
Coast Road, Salthouse will be shut from 5pm
Where are the rest centres?
Rest centres will be set up from 2pm at the following locations
Flegg High, Martham Primary, Caister High, Cliff Park High, Orimiston Venture Academy and Lynn Grove High from 3pm.
Rest centres will also be set up at Alderman Peel High School in Market Lane in Wells (from 4pm) and at Hunstanton Community Centre in Avenue Road for those affected.
In addition, Holt Community Centre, Stalham High School will be open from 4pm
What about pets? (Indoor pets such as birds, rodents, cats or dogs?)
Obtain a suitable secure pet carrier for your pet
Obtain a suitable harness/lead for your pet
Make sure your pet has a collar with name tag and telephone number
Make sure your correct contact details are registered if your pet has been micro-chipped. If not, get your pet micro-chipped
Keep a recent photo of your pet showing any distinguishing marks
If your pet is on medications—make a list of them
Keep copies of pet vaccination certificates and other important pet documents in your Emergency Kit
Please be aware that rest centres will not accept pets and therefore alternatives need to be considered.
Do you have garden pets like rabbits or guinea pigs?
Make sure that hutches are in good repair and are weather tight.
Can you move hutches into a shed or garage to protect animals in poor weather. Always keep a stock of food and bedding in case you are unable to go shopping. Check your pet's drinking water as it may freeze in cold weather
Be sure to regularly check on the welfare of your garden pets.
What about sandbags?
Sandbag locations for the Yarmouth area include Beach Coach Station, Pasteur Road car park (opposite Toops Tiles), Southgates Road, Quay Road, Gorleston and the Runham Road junction.
North Norfolk, King's Lynn and West Norfolk Council do not provide sandbags.
How long do I have to make arrangements for sandbags?
Information will be made available locally but first significant high tides are expected from 7pm.
Will there be transport for disabled / elderly people that can't be moved?
Provision will be made for anyone with mobility issues and will be discussed with the households directly.
Where will I park at the evacuation centre?
Parking assistance is available at these locations which are largely schools with good provision.
Are highways closing any major routes in and out of Yarmouth?
No highways are currently closed, any decisions to close main routes will be made pro-actively by the police and pro-actively publicised.
In case of medical emergencies – where are people being advised to go, which hospitals?
As far as we aware all hospitals are open at the moment.
When should schools close?
It is head teachers decision whether to close – schools are advised to monitor advice from Environment Agency and make any decision based on these warnings. If they choose to close schools should use the closure notice system which means the county council website will be updated.
5pm: Senior officers are urging residents to heed advice and ensure they evacuate if asked to do so, following warnings the floods are set are expected to be higher than the severe storms of 2007.

Evacuation centres have been set up across the county for those residents who have been unable seek refuge with friends or family.

Norfolk's Deputy Chief Constable Charlie Hall, who is leading the multi-agency response, said: "This remains a significant policing operation and we would urge residents to take our advice and leave their properties if asked to do so.

"We understand people may be anxious, maybe even dubious about following such guidance, however, we would like to reassure residents such disruptions are entirely necessary.

"As the lead agency in this respone we need to ensure the safety of everyone involved and for the evacuation to be conducted in a planned and organised manner."
3.50pm: Two new rest centres have been set up in Suffolk. They are as follows:
St Felix School, Halesworth Road, Southwold, Suffolk, IP18 6SD
Kessingland Sports & Social Centre, 2 Glebe Road East, Kessingland, Suffolk , NR33 7QX
3.15pm: 9,000 homes are being evacuated in South Yarmouth, North Yarmouth, Caister, Southtown and Cobholm areas of Great Yarmouth are being evacuated.

Rest centres in Great Yarmouth areas will open from 2pm and include Flegg High, Martham Primary, Caister High, Cliff Park High, Ormiston Venture Academy and Lynn Grove High.
1,000 homes are being evacuated in Suffolk including in Leiston, Lowestoft and Felixstowe.
Rest centres for those affected in Suffolk are at:
Water Lane Leisure, Water Lane, Lowestoft, NR32 2NH
Leiston Leisure Centre, Red House Lane, Leiston, IP16 4LS
Brackenbury Sports Centre, High Road East, Felixstowe IP11 9JF
Carlton Colville Village Hall, Hall Road, Carlton Colville Lowestoft NR33 8BT
St Felix School, Halesworth Road, Southwold, Suffolk, IP18 6SD
Kessingland Sports & Social Centre, Walmer Road, Lowestoft, Suffolk, NR33 7LE