Historic Sailing Ships Visit Norwich
13 August 2014, 11:34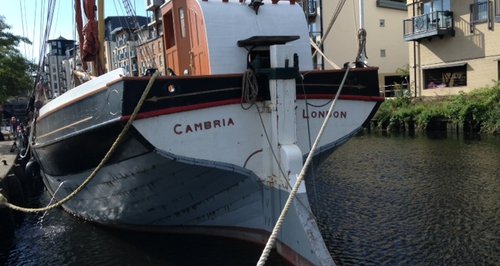 Two historic sailing barges are visiting Norwich, offering people an opportunity to see how they once traded in the city.
The iconic wherry Albion and Thames Barge Cambria are open to the public, where they have come to rest opposite the mills.
In their working lives, both barges carried cargo to and from Read's Mill and the Cambria also delivered mustard seeds to Colman's factory.
The 108 year old wooden barge Cambria only stopped running in the 70s but was mostly seen in Norwich during the 1940s and 50s, bringing cargo such as cattle cake, soya bean, fertiliser and grain. She was also the last cargo ship to trade with just a sail to get from place to place.
The Albion was built in 1898 on the shores of Lake Lothing and worked for decades on the Broads until the development of rail and road transport took over the trade.
You can see the Cambria near Carrow Bridge until Friday and the Albion is there until the end of today.