Man Charged Following Suffolk Drugs Deaths
4 January 2015, 07:17 | Updated: 4 January 2015, 08:26
A 19 year old man has been charged after the deaths of three men in Suffolk, which have been linked to a contaminated batch of ecstasy.
Three men, aged 19, 20 and 26 and who are all from Ipswich, were arrested on Friday on suspicion of being concerned in the supply of controlled drugs.
The arrests follow the deaths of two young men in Ipswich, on Christmas Eve and New Year's Day, and a third man in Rendlesham in Suffolk on New Year's Day, thought to be linked to the batch of pills.
The death of a fourth man in Telford in Shropshire is also being linked to the tablets.
19-year-old Adrian Lubecki from St Matthews Street in Ipswich has been charged with being concerned in the supply of controlled drugs (ecstasy) and possession with intent to supply a Class B drug.
He has been remanded in custody and will appear at Ipswich Magistrates' Court tomorrow (5 January).
The other men arrested have been released on bail pending further investigation. Both are due to return to Martlesham Police Investigation Centre on Wednesday 18 February.
Police have urged anyone who has the tablets to hand them in to prevent further fatalities, saying that members of the public have nothing to fear in surrendering drugs from the dangerous batch to authorities.
The drugs (pictured) are red, triangular pills marked with a distinctive "Superman'" logo. People are asked to hand them in at a police station, accident and emergency department or fire station.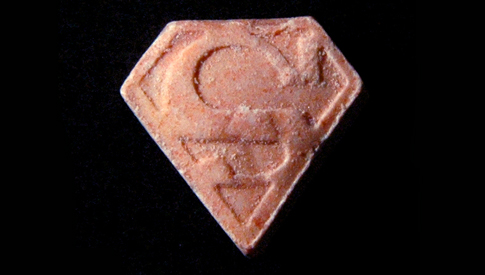 Superintendent Louisa Pepper, from Suffolk Police, said: "Our focus remains the prevention of further harm to our communities by taking these drugs off the streets.
"The arrests follow inquiries by a dedicated investigation team whose work will continue to identify those suspected of being involved in the supply of these drugs."
She added: "We view this particular drug as especially dangerous and want to prevent further deaths and save lives. If you have got any further drugs, please surrender them because they are dangerous.
"I can fully understand people's reluctance in this situation, but we are not looking to arrest or prosecute people - they are really dangerous and we are talking about saving lives."
Police believe four men who have died and another who is seriously ill in hospital may have taken drugs from the dangerous batch.
A labourer named locally as 20 year old John Hocking died after being found seriously unwell in Chestnut Close in Rendlesham at 7.10am on January 1st. He is believed to be a former student at Thomas Mills High School in Framlingham in the county.
A second man, named in a reports as Lithuanian labourer Gediminas Kulokas, died in Provan Court in Ipswich, at 9.40am the same day. He was reportedly celebrating his 24th birthday.
Another man from the same address was taken to hospital in a serious condition.
Detectives believe those cases may be linked to a drugs-related death on Christmas Eve after a man, named in reports as 22-year-old Justas Ropas, died in Bramford Lane in Ipswich.
West Mercia Police also believe a 27-year-old man, named in reports as Daniel Bagnall, who was found dead at a property in Telford on New Year's Day, may have taken the drug.
Suffolk Police have confirmed the suspected rogue drugs are of similar appearance to dangerous pills in circulation in the Netherlands last month.
Those tablets had a large concentration of PMMA, which acts more slowly than MDMA - the main component of ecstasy. This causes people to take more pills because they think they are not working.
PMMA can cause high body temperature and an increased heart rate.
Chief Inspector Steve Denham said: "As well as it being illegal to sell and buy drugs, it can also be very dangerous as we have sadly seen with these tragic deaths.
"We would urge everyone not to be tempted to take illegal drugs - you don't know where they have come from, what they are made up of, or how your body will react to them.
"If you have been offered drugs in the Ipswich area over the past few weeks, in particular ecstasy, we'd urge you to contact us with any information so that we can find those responsible and remove these dangerous drugs from the streets."
Anyone with information is urged to contact police on 101 or call Crimestoppers anonymously on 0800 555 111.