Queen's Baton Tours Suffolk
9 June 2014, 06:00 | Updated: 10 June 2014, 09:39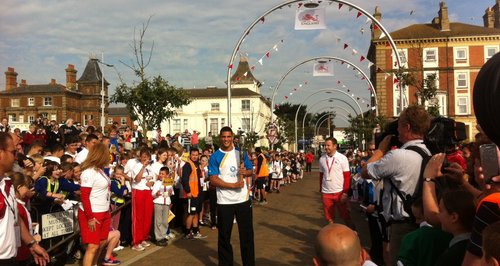 The Queen's Baton is touring Suffolk ahead of the XX Commonwealth Games in Glasgow.
It's travelling around 120 miles around the county, and will be seen by an estimated 10,000 thousand people.
Having criss-crossed the world and travelled around 68 Commonwealth countries and territories since it left Buckingham Palace in October, the Baton will reach Suffolk - it's only visit to the East of England.
The agenda is as follows:
07.45-09.30 Lowestoft
Carried by Lowestoft boxer Anthony Ogogo, the Baton will arrive and be greeted by the Mayor of Lowestoft and a fanfare of live music in front of Claremont Pier.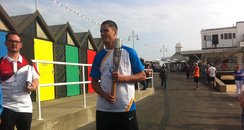 10.00–13.00 - Newmarket
The Baton will arrive at the historic Rowley Mile Racecourse at 11:30 where a mass participation schools relay will take place.
Commonwealth Games race walking gold medallist, Ron Wallwork MBE, will hand the Baton to jockey Ryan Moore - who will ride with it down the Rowley Mile.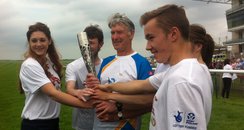 12:30- 17:30 - Bury St Edmunds
The Baton will arrive at Bury St Edmunds Leisure Centre for a Super 8's athletics competition involving over 400 local disabled and non-disabled school children.
The Baton will be carried by England U19 cricketer Elizabeth Reynolds.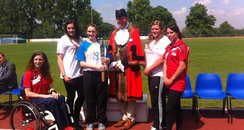 14.45–18.00 - Ipswich (Northgate Sports Centre)
On arrival in Northgate, the Baton will be a VIP visitor at a QuadKids athletics competition involving 700 9-11 year olds, 80 young leaders, watched by 1500 spectators.
It will then be run around the track with the Batonbearer British Olympic handballer Louise Jukes. She will gather a representative from each of the competing schools who will join her to complete the run.
Louise will then lead the participants in a parade around the track for the closing ceremony.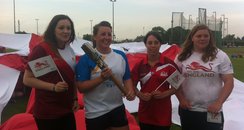 17.00- 19:00 - Ipswich (Christchurch Park)
Batonbearer (80 year old keep fit enthusiast) Ken Webb will run the Baton into Christchurch Park. It will be welcomed onto the stage by the Mayor of Ipswich and Chairman of Suffolk County Council.
There will then be a free, fun and celebratory mass participation sporting event.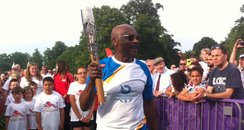 Councillor Alan Murray, Suffolk County Council's cabinet member for health, said: "The fact that Suffolk has been chosen to host the Queen's Baton Relay is proof positive of our ability to hold successful major events and celebrate sport. This is a great opportunity for Suffolk to show its support for Team England. I'm confident that the Baton Relay and our Batonbearers will inspire more people to become active and help us in our drive to become the most active county in England."
The XX Commonwealth Games takes place in Glasgow from 23rd July to 3rd August. Commonwealth Games England is sending a 400-strong team to compete across the 17 sports.
Dame Kelly Holmes, President of Commonwealth Games England, said: "I'm encouraging everyone in Suffolk to get involved. Suffolk will be hosting an incredible celebration of sport and everyone can join in. If you can be there then please go and give sport a go, cheer your inspirational Batonbearers and be part of the Team England send-off to Glasgow."