£120,000 Copper Stolen From Purfleet Dock
27 September 2014, 06:54 | Updated: 27 September 2014, 06:58
£120,000 of copper has been stolen from a dock at Purfleet.
The vehicle in the picture is believed to have been used to tow away the 27-ton load of copper rod at Purfleet Thames Terminal.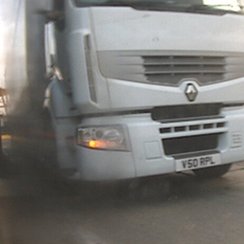 The copper, in six-ton coils and loaded on a box trailer, should have been delivered to a company on the South Coast but it failed to arrive.

Instead, the empty trailer was later found abandoned at London Road, Rawreth, near Wickford.

Officers are now investigating how the white Renault Premium tractor unit managed to breach strict security at the dock to drive away with the trailer.

The theft happened between 7pm and 8pm on Wednesday August 6 but despite extensive enquiries the truck and the load have not been found. Police have only just released the details.

Investigating officer Pc Jo Watts said: "We know that a white Renault tractor unit gave correct information to pass through a security gate and also to leave with the load. But we now know that the truck was on false or cloned plates.

"We now hope that someone will be able to identify the truck or remember seeing the trailer being unloaded at Rawreth."