Basildon: Do You Recognise These Men?
12 August 2013, 05:54
Police have released Efit images of two people who were involved in a robbery in Basildon.
It happened at 10.20pm on July 16 when the four suspects knocked on the front door of the property on Osborne Road.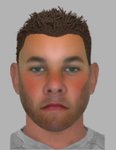 When the door was opened they forced their way in and threatened the two occupants and two friends who were visiting at the time.
One of the victims, a 26-year-old man, was punched to the head and knocked to the ground as the robbers demanded cash and valuables.
They fled with two Playstation 3s, an Xbox, Blackberry phone, computer games, cash, a wallet, a purse and DVDs.
Anyone who can identify the two men in the Efits, or anyone with information about the robbery, should contact DC Rob Lewis at Basildon CID on 101 or call Crimestoppers anonymously on 0800 555111.