Essex: Manhunt After Farm Shooting Extended
28 August 2013, 05:19 | Updated: 29 August 2013, 15:45
Police hunting a man suspected of shooting two people on a farm near Brentwood have widened their search to London and Hertfordshire.
Two men were left with gunshot wounds to the legs and chest following the incident on land off Goatswood Lane in Navestock, Brentwood at 3.30pm yesterday (Tuesday 27 August).
They are being treated in hospital under armed police guard and are both in a stable condition, Essex Police said.
Police are searching for 27-year-old Francis O'Donoghue who is believed to have been at his home on the farm in Essex when the shooting happened.
They think he could be hiding at traveller sites in London or Hertfordshire.
Superintendent Trevor Roe said inquiries suggested the two victims and the gunman knew each other, but there was no explanation for the attack.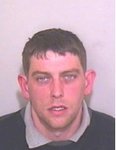 Appealing to those with information about the incident, he said: "We would urge people who know Francis to avoid him purely because he is in possession of a firearm and those who come into contact with him should call us immediately.
"There is nothing though to suggest that anyone else is at risk of being injured.''
Mr O'Donoghue is described as white, about 5ft 11in and in his late 20s. He is of average build, with short-brown hair, protruding ears and speaks with an Irish accent.
Anyone with information about the shooting should call Essex Police on 101, or 999 if they know of Mr O'Donoghue's whereabouts.