Chigwell: Boccia For Samcam At Charity
2 July 2013, 12:57 | Updated: 2 July 2013, 13:02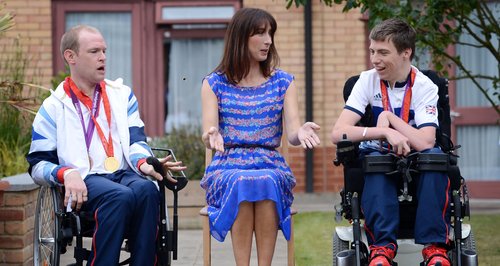 Samantha Cameron joined Paralympic athletes in a game of boccia as she visited a respite care centre in Essex.
The Prime Minister's wife was visiting disability charity Vitalise's facility in Chigwell in her new role as patron.

Mrs Cameron was given a tour of the site before joining in a game of boccia with Paralympic athletes David Smith and Dan Bentley.

The pair passed on tips before she took them and a group of residents on in a game, which ended in a 1-1 draw.

Laughing at her success, Mrs Cameron told them: "I used to play a lot of pool when I was younger. I'm not very sporty."

Dressed in an electric blue Warehouse dress, she sat between Smith and Bentley as they rolled balls towards a white target ball on a lawn in the grounds of Jubilee Lodge.

After they finished playing, Smith, who won silver and bronze medals at London 2012 and a gold at the Beijing Games, said: "She was good. I thought she got into the game quickly and seemed to enjoy it."
Vitalise is a national charity providing short breaks and holidays for people with disabilities and their carers.

The charity, which celebrates its 50th anniversary this year, also has centres in Southport and Southampton and is looking to expand.

Boccia is a Paralympic sport for athletes who have disabilities that have a major impact on motor skills.