Clacton: Gas Explosion Brings Community Together
12 February 2014, 06:17 | Updated: 12 February 2014, 07:21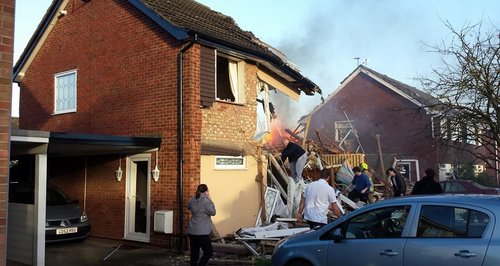 Heart has been told a gas explosion in Clacton has brought the whole community together.
Last Wednesday (5 February) two homes were destroyed and nine people were injured during the blast on Cloes Lane.
Hundreds of donations of food, clothes, electrical goods and furniture have been given to a Facebook group set up to support those affected.
Patricia Anne Turner, who set up the page, says the community has been very generous: "We've had electrical goods, we've had day trips for the children, we've had shoes, antiperspirants, food. Everybody has been fantastic.
"I said 'we need to do something about it and we need to do it now'. From there, everybody has gone manic and it has been absolutely fantastic. People have been amazing and we are blessed as a community."
Tendring District Council Chairman Neil Stock said: "I would like to praise those members of the public who were at the scene just after the explosion and put their own safety aside to rescue people who were trapped.
"I would also like to praise the many people who have donated money and items to the victims, along with those who have set up the collections on their behalf.
"As always staff have rallied round and pulled out all the stops to support and assist those residents who have been affected," he added.
It is still not known what the precise cause of the explosion is or where it originated.
The Health and Safety Executive has now taken over the lead for the investigation.