Clacton Poll Date Set
2 September 2014, 11:11 | Updated: 2 September 2014, 11:52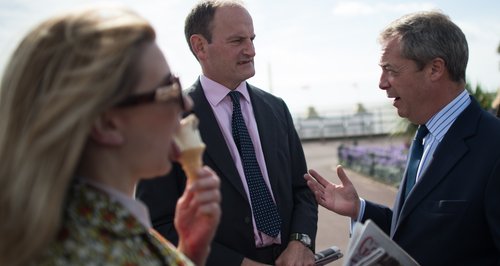 The parliamentary by-election in the Essex seat of Clacton is to be held on October 9th.
The crunch electoral test, triggered by the defection of former Conservative MP Douglas Carswell to Ukip, will come a week after the Tories' annual conference and on Prime Minister David Cameron's birthday.

Mr Carswell shook Westminster last week by announcing that he was joining the eurosceptic UK Independence Party and standing down from Parliament to force a by-election.

An opinion poll in the seat suggested that he enjoys a significant lead and is on track to become the first person to be elected to Parliament for Ukip, whose only previous MP, Bob Spink, did not seek a fresh mandate when he defected from the Tories in 2008.

Mr Carswell had been Conservative MP for Clacton since 2010, having previously served as MP for Harwich from 2005-10 before boundary changes.
Ukip leader Nigel Farage has said a by-election win for his party in Clacton would signal a "landslide in British politics".

A Survation poll for The Mail On Sunday gave Ukip a massive 44-point lead over David Cameron's party.

Tories have yet to announce their candidate for the by-election.

London Mayor Boris Johnson brushed off suggestions he should put his name forward, telling LBC radio: "The first objection really, is that I've already whacked in the CV for Uxbridge. It would seem a bit eccentric."