Clacton: Red Arrows Confirmed For Air Show
23 April 2014, 09:57 | Updated: 23 April 2014, 09:59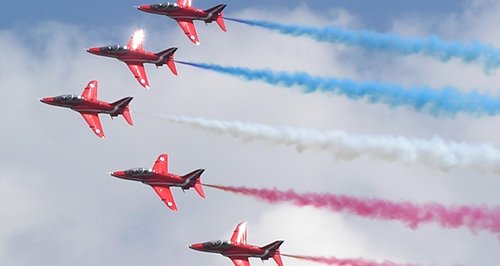 The Red Arrows have been confirmed to take to the skies at this summer's Clacton Air Show.
The world famous aerobatic display team will once again by performing for the crowds along the town's seafront on Friday 22 August.
Mark Platt, Tendring District Council's Cabinet Member for Tourism, Events and Leisure Services said the Red Arrows represent the speed, agility and precision of the Royal Air Force.
"In their distinctive Hawk jets they perform dynamic displays around the world and it is a great honour to host them in Clacton," he said.
"They are great ambassadors for Britain and that includes the pilots, engineers and support staff that make up the whole team."
The Red Arrows have been coming to the Clacton Air Show for more than 20 years.
Cllr Platt said the Air Show team is working hard behind the scenes to come up with a full and exciting programme for the show on August 21 and 22.
"Whenever you are organising an event such as this you always want to sign up the Red Arrows but there will be a whole host of aircraft on board by the time the show comes around and one or two surprises," he added.
Clacton will once again be the only seaside East Coast event of its kind as attempts to get Lowestoft and Southend off the ground again have met with failure.
Also at this stage, the organisers are able to announce that the Tucano will by flying both days.
The Clacton Air Show brings in around £4 million to the local economy during the two day event.
Last year it attracted around 140,000 people.