Colchester: Army Medic Recognised In Honours List
4 October 2013, 06:22 | Updated: 4 October 2013, 06:36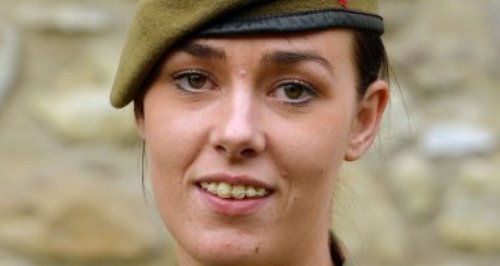 An Army medic from Colchester has been honoured after saving lives on three separate occasions, including Afghan children, during her first tour of duty in Afghanistan.
Lance Corporal Rachel Hughes received a mention in dispatches in the latest Operational Honours.
The citation for the 26-year-old, who serves in the Royal Army Medical Corps, describes how she showed a level of medical professionalism exceeding someone of her rank and experience, and never allowed her personal feelings to affect the treatment she was giving.
But L/Cpl Hughes admitted that she had shed tears after each of the incidents in a spontaneous reaction, as she dealt with the shocking scenes she encountered in Helmand Province.
The only medic in a temporary base, early in her tour in November, the medic was faced with providing emergency treatment to four Afghan children who had been trapped underwater when the tractor they were in overturned into a canal.
Two children were in a critical condition after being trapped underwater and L/Cpl Hughes was responsible for saving their lives.
Describing the shock of treating the children, the 26-year-old said: "It's almost like you blink and then you just go into the zone.
"It's strange, I can't really explain it, it's not until after that you think about it.
"You're just rolling, doing everything that you're trained to do.
"It's all a big blur.''
Just four days later, she again saved a child's life when an eight-year-old boy was brought to the base after losing his leg when he was blown up by an IED.
That incident was the first IED injury L/Cpl Hughes had had to deal with, she said.
"I've always been pretty nervous about dealing with it, because it's hard to prepare yourself for it.
"You can't really prepare yourself for children, especially when you have relatives that age - I have nieces and nephews a similar age so it was a bit of a shock.
"But then you just get on with it.''
And then in January, L/Cpl Hughes desperately battled to save a colleague's life after her platoon came under fire during an Afghan police-led operation.
The man was bleeding from the carotid artery, but she stemmed his bleeding and cleared his airway in less than 10 minutes.
When his condition deteriorated she fought again to save his life, and he was evacuated back to Camp Bastion for surgery.
The soldier was flown back to the Queen Elizabeth Hospital in Birmingham, but later died.
Despite his loss, L/Cpl Hughes was praised by surgeons for her treatment of him and "unfaltering and single-minded desire to save his life''.
"He flew back to Birmingham but unfortunately he passed away,'' they said. "We managed to get him back to his family.''
But she said it gave her some comfort to know that she had been there for her colleague.
L/Cpl Hughes said although she had managed to treat children and colleagues despite the shock, she would still break down in tears afterwards. "Every time I had a casualty afterwards I would just cry, but it was just my initial reaction,'' she said.
"I think my CO (commanding officer) was a bit worried but it was just the way I dealt with it.''
L/Cpl Hughes said she worked in a bar before joining up at the age of 21.
"None of my friends thought I would go through with it,'' she said.
"But It's the best thing I've ever done."