Colchester Murder TV Appeal
23 July 2014, 11:52 | Updated: 23 July 2014, 11:54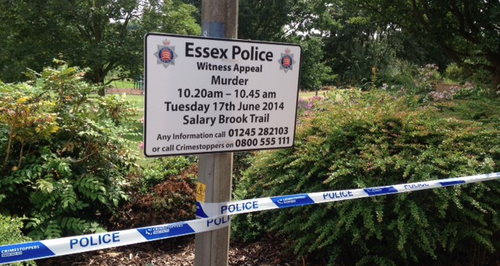 Detectives investigating the murder of a Saudi Arabian student in Colchester say they've had an encouraging response following last night's Crimewatch appeal.
Nahid Almanea was attacked as she walked from her student accommodation in nearby Woodrow Way along the Salary Brook Trail to the university complex in Wivenhoe.
The 31-year-old, who was studying at the University of Essex, died as a result of stab wounds.
Senior Investigating Officer Detective Chief Inspector Lucy Morris made an appeal for people who may have been on the trail between 10.15am and 10.45am on Tuesday, June 17, to come forward.
DCI Morris said: "It was extremely useful to appear on Crimewatch to make an appeal for information. There have been several calls to the incident room as a result of the show and we are sure these will help us with our investigation."
The people officers would like to trace are:
A man who is thought to have been wearing a very distinctive jacket. It is described as being an Italian designer item, it was slightly longer than waist-length, had brown buttons up the front and two pockets also with buttons. It was beige in colour, and had a belt which may or may not have had a buckle. There is a picture of a similar style coat on this page. He was seen on the Salary Brook Trail between 10.20am and 10.40am, shortly before Nahid was found. He was walking towards the Greenstead estate on the Salary Brook Trail. He is described as having thick, short black hair on the top of his ears, is aged in between his late teens to 30s, 5ft 6ins tall and was of average build.
Two cyclists who were seen using the trail on the morning that Nahid was found. The man and woman were cycling together and may have seen Nahid after she was attacked. They were seen by a witness at 10.45am on Tuesday, June 17, coming from the direction of the university towards Greenstead on the Salary Brook Trail. The man is described as being olive skinned with dark hair. He was in his early 20s and looked tall and slim. The woman is thought to be in her 20s with long dark hair. She was wearing what has been described as a flowing pattern tiered skirt.
A tall man in a trilby style hat who was seen in the area around the time of the murder. He is described as slim and was wearing a long dark trench style coat. His hat may have been green or dark blue and he had long dark wispy hair.
A white man, aged between 19 and 23-years-old, with blond hair. He is thought to be English and was wearing a back pack and white headphones. Witnesses describe him as looking like a student.
A white man also thought to be a student, who had dark, short hair. He was wearing light trousers and was using a phone.
A black man who was wearing a forward facing cap and a back pack. He was also wearing a dark blue and yellow striped polo top.
Two women on bikes, who were seen by the hedgerow on the Salary Brook Trail
A white woman with long blonde hair, 5ft 10ins tall, of slim build and aged around 19 or 20. She is described as possibly being a foreign student.
A young man on a bike, also seen on the Salary Brook Trail.
Anybody that has any information about the people that officers are looking to identify are asked to call the incident room on 01245 282103 or Crimestoppers anonymously on 0800 555 111.
Independent charity Crimestoppers has offered a £10,000 reward for information that leads to the conviction of the person or people responsible for the death of Nahid.