Colchester: PM Visits Town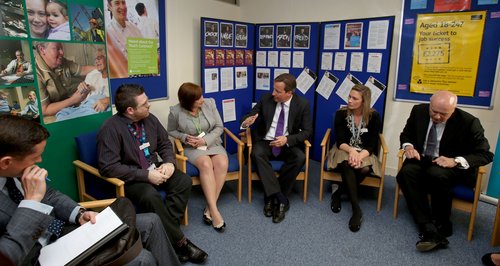 Prime Minister David Cameron and Iain Duncan Smith have visited Colchester Job Centre as the government launched the Help to Work scheme for the long-term unemployed.
The Government said Jobcentre staff will have more options to support the hardest to help under Help to Work. There will be "intensive" coaching, a requirement to meet an adviser every day or doing community work for up to six months.
Unite urged the bosses of charities not to take part in the programme, describing it as "workfare."

The voluntary work could include gardening projects, running community cafes or restoring historical sites and war memorials. The placements will be for up to six months for 30 hours a week and will be backed up by at least four hours of supported job searching each week.

Speaking at Colchester Job Centre in the town's High Street, the PM said: "We are seeing record levels of employment in Britain, as more and more people find a job, but we need to look at those who are persistently stuck on benefits.

"This scheme will provide more help than ever before, getting people into work and on the road to a more secure future."
The PM's visit is the second by a senior politician in a week. Deputy prime minister Nick Clegg visited the town on Thursday to take part in a Q and A session with Heart listeners at the Weston Homes Community Stadium.