Colchester Salary Brook Trail Re-Opens After Murder
8 July 2014, 13:58 | Updated: 8 July 2014, 14:06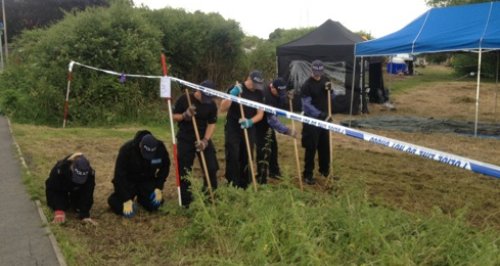 The Salary Brook Trail in Colchester has reopened today, three weeks since Nahid Almanea was murdered
Essex Police say, up to now, the scene had to be preserved ''to collect vital evidence''.
The force says that officers have covered a search area of more than 450 metres.
48 private gardens in the area have been searched, along with three fishing lakes.
Almost 470 drains have been dredged, with more than 2,100 exhibits seized.
These exhibits are now being checked over by forensic teams.
Detective Chief Superintendent Steve Worron said: "I'm grateful to the people of Colchester for their patience and understanding whilst these searches took place.
Securing evidence is a vital part of the investigative process.
We are continuing to appeal for information from the public to find witnesses who may be able to help us piece together a picture of what happened on the Salary Brook Trail on the morning that Nahid died on Tuesday, June 17."
In particular we would like to speak to a man who was seen on the Salary Brook Trail between 10.20am and 10.40am, shortly before Nahid was found.
He is thought to have been wearing a very distinctive jacket.
It is described as being an Italian designer item, it was slightly longer than waist-length, had brown buttons up the front and two pockets also with buttons.
It was beige in colour, and had a belt which may or may not have had a buckle.
He was walking on the footpath near the underpass on the A133 side of the Salary Brook Trail.
He has still not yet come forward and we urgently need to speak with him.
We also issued an efit to the public in relation to a man seen in Hewes Close, Colchester, shortly after Nahid was attacked.
Officers are now working on a number of leads to trace the man so we can speak to him.
However, we would still want to hear from anyone who thinks they recognise this man.
There are a number of other appeals for people we would like to speak to who can maybe help us build up a clearer picture of events on the Salary Brook Trail on the morning on Tuesday, June 17.
Their descriptions are all on the Essex Police website and on our social media sites.
Please have a look, share with your friends and colleagues.
Any information you have no matter how small could help us so please get in touch via the incident room on 01245 282103 or anonymously via independent charity Crimestoppers on 0800 555 111."
James Attfield Murder
Detective Chief Superintendent Steve Worron has also given a brief update into the murder of James Attfield in Colchester.
He said: "In relation to the murder of James Attfield, which took place in March, my officers are still trying to trace a couple seen sitting on a bench which was near to where Jim was found.
The couple were seen at 11.30pm on Friday, March 28.
They were sitting at opposite ends of the bench, near a man who was sitting on the grass.
It is unknown whether they knew each other, but they may have been a couple who had an argument earlier in the evening and so were sitting apart, not talking to each other.
The man is white and is of a stocky build.
The woman is described as white.
The couple on the bench, or anyone who might know who they are, are asked to contact the incident room on 01245 282103 or Crimestoppers anonymously on 0800 555 111.
Crimestoppers has offered a reward of £10,000 payable for information which leads to the conviction of the person or people responsible for both Jim?s murder and Nahid's murder."