Essex: 89 Year Old To Run London Marathon...Again!
13 April 2014, 06:00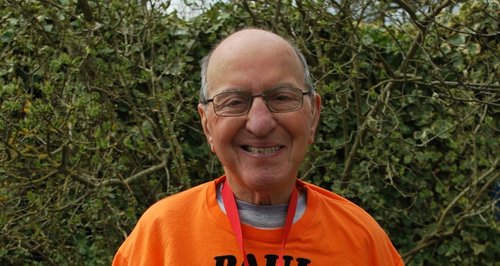 A 89-year-old man from Essex has become the oldest person to run the London Marathon for the third time.
Paul Freedman MBE, from Hornchurch, was the oldest runner in 2011 and again last year and has picked up the title for today's event.
This is the 23rd time he has taken part in London and said: "It's nice being the oldest runner, I'm a bit slower nowadays, but the crowd pulls me through and I still enjoy the day. If only I could find someone to give me a piggy back!"
Paul is supporting Saint Francis Hospice - his 17th London Marathon for the charity, which is close to his heart.
He said: "I get a kick out of volunteering and fundraising and Saint Francis Hospice is a fantastic charity. Everyone there is lovely and very dedicated. Saint Francis Hospice nurses looked after my wife Teeny at home before she sadly died from cancer in 2007."
The retired retail worker has raised more than £100,000 for Saint Francis Hospice and supported other charities and he said: "I'm not worried about my time or where I come it's about getting to the end and raising as much as I can for the hospice. It would be nice to finish in seven and a half hours though!"
Paul took up running at 61 and did his first marathon in 1991 at 66 - a late age to make your marathon debut and has taken part every year except 2004 when he was recovering from a heart attack. However, he admitted: "My passion is half marathons - I've completed 171 of them!"
Paul shows no signs of giving up running challenges and said: "I hope to continue to 25 London Marathons as my grandson Samuel will be 18 then and able to take part with me, which is his wish."
To prepare for the marathon Paul aims to walk 100 miles a month and is out four times a week. He also enjoys bowls, fitness classes and goes to the gym. He completed the LV=Brentwood Half Marathon on Sunday 23rd March in three and a half hours - 20 minutes faster than when he last did it in 2012.
Saint Francis Hospice's Events Manager Lauren Josman, said: "Paul is a kind, energetic individual who is dedicated to helping others, including Saint Francis Hospice. He is out in all weather training and raising funds. This year Saint Francis Hospice is celebrating its 30th anniversary of providing care to people affected by cancer or life-limiting illness and it is only because of supporters like Paul that we are able to continue our vital services. I wish Paul and our team of 50 London Marathon runners thanks and all the best on the day."