Essex: Have You Seen Missing Paul?
12 August 2013, 09:17 | Updated: 12 August 2013, 09:18
Police in Greater Manchester say they are worried about the safety of a missing man who is thought to be in Essex.
Paul Jonathan Tyler was reported missing by staff at Tameside General Hospital in Greater Manchester on Saturday July 27.
Since that date it is believed the 24-year-old has travelled through West Yorkshire and North Yorkshire. He is currently believed to be in the Essex area.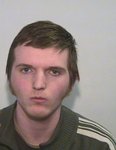 Paul is described as being white, 6ft tall, of medium build with collar length brown hair in a 'spiky' style and a full set of facial growth.
He was last seen wearing black trainer style hiking boots (possibly Hitec make), blue jeans, a slightly faded petrol blue hooded top and a cream/grey arran cardigan.
Any sightings or suspected sightings by members of the public should be reported immediately to Essex Police on 101.
We are being advised not to approach directly as he is need of medication.