Essex: Horse Racing Set For 2015 Return
20 December 2013, 06:45 | Updated: 20 December 2013, 06:50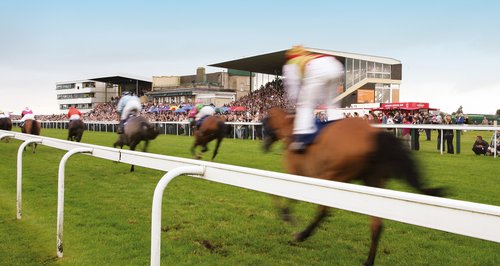 Great Leighs is to apply for a licence and the chance to hold fixtures in 2015 in the new guise of Chelmsford City Racecourse after being taken over by a new company.
Betfred has formed a joint-venture with SIS and Bet Solutions International called Tote Media Limited, which will take on the Essex venue and its assets.
Great Leighs became the first new racecourse to open in the United Kingdom since 1927 when it started to operate in April 2008, but it was beset by financial issues and lasted only a few months.
There have been false dawns for a new start in the past, but the Polytrack circuit remains in decent condition and the new management intends to focus upon the construction of a grandstand as well as leisure and betting facilities.
A statement from Tote Media Limited said the track "is expected to run a regular high quality self-funded racing programme and will apply to the BHA in January for a licence and entry into the 2015 fixture allocation process''.
Phil Siers, Tote Media managing director, said: "We are delighted to be involved in this project, and look forward to working with our partners and the BHA to create, what we believe will be the best all-weather facility in Europe.''
Joe Scanlon, director of racing at Betfred, has been appointed chairman of the racecourse. He said: "I'm delighted that a new joint venture company has acquired the assets of Great Leighs and I look forward to working with our partners.
"The track is ideally placed for Newmarket's training centre whilst the surrounding area has a total catchment in excess of three million people.
"This is an exciting challenge and represents a significant investment. Working closely with the BHA we intend to deliver a high class programme of racing which can only be to the benefit of everyone involved in our wonderful sport.''
BHA spokesman Robin Mounsey said: "BHA has been notified of the proposed change of ownership at Great Leighs and has had preliminary discussions with the team concerned.
"The racecourse is currently unlicensed. There is an existing timeframe for applications to be made to the BHA board for new racecourses to enter the next fixture allocation process. Any applications would need to be submitted by the end of January in order to be considered for participation in the 2015 Fixture List.
"An independent report has been commissioned by BHA regarding the benefits and downsides of potential expansion of the all-weather programme. The report, which is being undertaken by Deloitte and will involve consultation with stakeholders, will be presented to the BHA board in the first quarter of 2014, prior to the compilation of the 2015 Fixture List.''