Harwich: Body Found After Ferry Plunge
20 March 2014, 15:39 | Updated: 20 March 2014, 16:04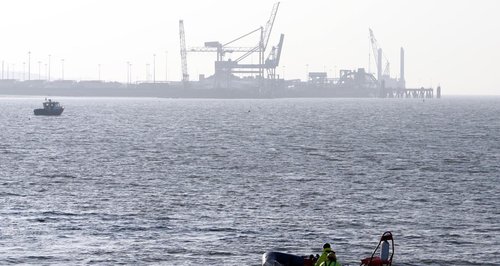 Police who had been searching for two men seen jumping from a ferry off the coast of Essex have recovered a body.
A major search was launched after the men, thought to be Albanians refused entry to the UK, went overboard from the Stena Britannica ferry off Harwich, on February 26th.

Suffolk Police said they had been contacted by a member of the public at about 12.30pm today (Thursday 20th March) reporting a body on a beach near Buregate Road, Felixstowe.

The body appeared to have been in the water for some time, the force added.

A spokesman said: "The body is believed to be that of a man.

"Police are making efforts to identify him and have found a quantity of euro currency on the body.

"Suffolk Police are liaising with their Essex counterparts following the find."

Eleven people were arrested in the Netherlands as part of a "human smuggling" investigation following the incident.

The UK Border Agency confirmed 13 people who had arrivied at Harwich by ferry had been refused entry to the country.