Public Sector Workers In Essex Strike
10 July 2014, 07:21 | Updated: 10 July 2014, 07:44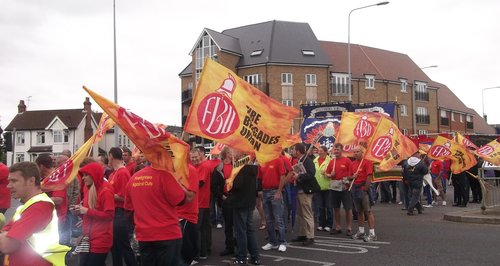 There are demonstrations in Southend and Chelmsford today (Thursday 10 July), as more than a million public sector staff are expected to strike.
Groups including teachers, council workers and firefighters are walking out in protest at pay offers of around one per cent.

A new report says public sector workers are £2,200 worse off per year on average since the coalition came to power.

Trade union group the TUC is blaming below-inflation pay rises, and in some cases total freezes.

A Government spokesperson said: "The Government recognises and greatly values the contribution of public sector workers.

"The difficult decisions we have taken on public sector pay restraint since 2010 have saved around £12 billion, helping maintain front line services and thousands of public sector jobs, while still protecting the low paid.''

The strike action is expected to lead to schools being closed or disrupted.

Click here for the latest details from Essex County Council.

Click here for the latest details from Southend Borough Council.

Click here for the latest details from Thurrock Council.

A rally is being held outside the Odeon Cinema on the High Street in Southend at 12pm.

In Chelmsford, a march will depart opposite Shire Hall at 11.30am before a rally at Essex Cricket ground at 12.30pm.

Leader of Southend Borough Council, Councillor Ron Woodley, says: "Due to the industrial action planned by public sector unions for Thursday 10 July it is possible that some council services will be affected.

"Whilst we will be doing our best to ensure that disruption is kept to a minimum to front-line services, we are expecting school closures.

"In most cases we will not know with certainty what schools will be affected until the day of the strike but as soon as we have any information about schools or any other impact on services, it will be posted on the council's website."