Romford: Profile Of A Killer
19 December 2013, 13:59 | Updated: 19 December 2013, 14:05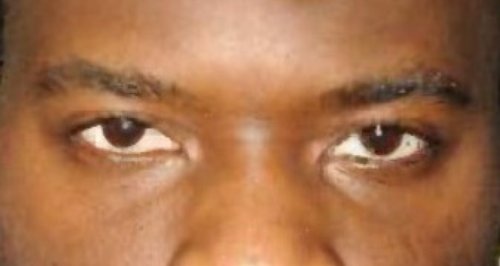 Michael Adebolajo horrified millions of people by appearing on camera with bloodied hands clutching a knife and a meat cleaver moments after killing Lee Rigby.
The 29-year-old from Romford, who was raised as a Christian, became a committed Islamic extremist who tried to join jihadis in east Africa, and then brought terror to the streets of the UK.
In the shocking footage he was seen ranting about how Muslims in other countries had to witness similar horrors to that which he and Michael Adebowale had wreaked in south east London.
Another film clip captured him charging towards police clutching a knife and a meat cleaver, and flying through the air after he was shot by the embattled marksmen.
Giving evidence in court, he only showed emotion when talking about his religious beliefs, but remained calm when describing his chilling attempts to decapitate Fusilier Rigby.
He told jurors that he had converted to Islam in 2002 or 2003, when he was a student at the University of Greenwich, and chose to take the name Mujahid Abu Hamza.
Adebolajo said he wanted to be called Mujahid, meaning fighter, after he learned "how much Allah loves the mujahideen".
He was born to Nigerian parents at King's College Hospital in south east London on December 10 1984, and later went to Marshalls Park School in Romford where he made friends with Kirk Redpath, who went on to become a Lance Corporal in the British Army and was killed in an explosion in Iraq.
Adebolajo told jurors that most of his friends growing up were white British, and that he blamed Tony Blair for Mr Redpath's death.
His nurse father Anthony and social worker mother Tina had tried to dissuade him away from the clutches of Islamic extremism, but in 2010 he was arrested in Kenya, apparently trying to get to Somalia to join the terrorist group al-Shabaab.
Adebolajo said he wanted to get to the African country so that he could live under Sharia law.
His friend Abu Nusaybah claimed that Adebolajo was asked to work for the British security services after he was caught, and Adebolajo told police that MI5 had visited his home.
The Commons Intelligence and Security Committee is looking at what security services knew about the suspects before the murder, and is expected to make at least some parts of its findings public.
In police interview and throughout his court appearances he rambled on about his political and religious motivations.
Before his defence case began, a hearing took place to establish ground rules for what would happen in court, to try to stop him using the Old Bailey as his soap box.
Mr Justice Sweeney told his barrister David Gottlieb: "In the light of what we all saw in the (police) interviews what needs to be clearly understood is that in the court arena at least a question is not a cue for a speech, it's a cue for an answer."
Adebolajo was held at high security Belmarsh prison after he was charged with the murder of Fusilier Rigby, and there he claimed that he was attacked by a group of prison officers, and lost his front teeth when they put him under restraint.
Five members of prison staff were suspended after the incident, but the Prison Officers' Association insisted that only approved restraint techniques had been used.