Shenfield: Man Injured In Car Park Shooting
24 January 2014, 08:04 | Updated: 24 January 2014, 12:16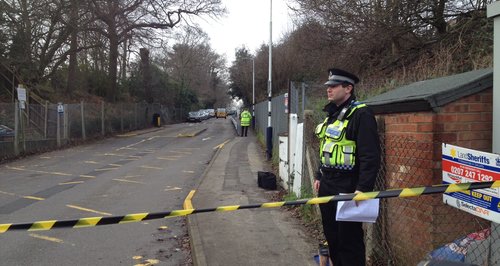 A man has suffered leg injuries after he was shot in the car park of Shenfield station.
British Transport Police and Essex Police were called to Shenfield railway station at 5.51 this morning (Friday 24 Janaury) to reports of a man with leg injuries in the car park of the station.
A British Transport Police spokesperson said: "As he got out of the car he was approached by an unknown man and received a single gunshot to the leg.
"The man, wearing a balaclava ran from the scene of the incident and left in a vehicle parked nearby."
Officers say the victim, who is 44-year-olds and from Essex, was taken by ambulance to Basildon Hospital.
His injuries are not thought to be life-threatening.
At this stage of the investigation, police cannot confirm the vehicle or weapon used.
Detective Superintendent Gary Richardson, leading the investigation, said: "At this stage we believe the victim of this assault was deliberately targeted.
"We do not believe this incident was gang-related and I would like to reassure the public that there is no reason for any undue concern."
Anyone with any information which they believe could assist the investigation is asked to contact British Transport Police on Freefone 0800 40 50 40, quoting incident reference 48 of 24/01/14.