Southend: Airshow Postponed Until 2015
20 March 2014, 09:38 | Updated: 20 March 2014, 15:28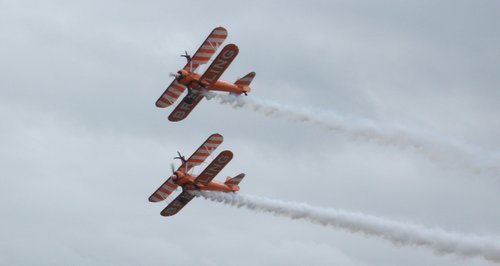 The Southend Airshow & Military Festival will not be going ahead as planned this year.
The event, which was due to take place in September, has been postponed until 2015.
Southend Council decided to stop funding the popular event last year in a bid to save £130,000 a year.
But volunteers Tom Curtis and John Delaney, who have been fighting to put the event on this year, have today (Thursday 20 March) said that they have not been able to raise the final £35,000 needed.
Tom Curtis has said: "Though its undoubtedly a sad day for myself and the team, postponing the event to 2015 does not remove the achievements we have made this year.
"From the creation of Southend Airshow CIC, 'Gibson' the Airshow Bear and raising an amazing £185,000 in just nine months.
"This is combined with the massive success we have found found on Facebook, where we have in excess of 23,000 supporters making us one of the largest, if not the largest Airshow Facebook page in the country."
He continued: "While we could have pushed ahead with a revised smaller event using the existing funds raised, we have elected to postpone the event to 2015 to ensure that Southend gets the Airshow it deserves."
John Delaney added: "It was always going to be a huge task to put everything together within nine months so although I am disappointed we ran out of time for 2014 I am still delighted with what we have achieved so far.
"This is underlined by the total commitment of all our supporters and sponsors who have agreed to continue working with us towards the revised 2015 Airshow dates."