Ukip MP Probes Prime Minister
15 October 2014, 15:39 | Updated: 15 October 2014, 15:41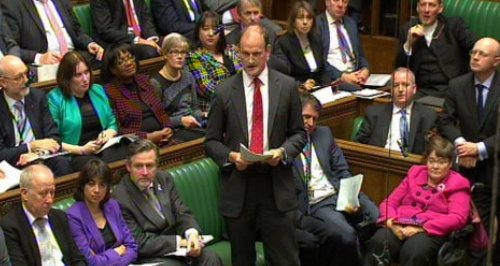 Ukip's first elected MP Douglas Carswell has spoken in the House of Commons for the first time as a representative of his new party for Clacton.
The former Conservative, who comfortably won back his seat at the Clacton by-election last week, took part in the weekly Prime Minister's Questions session.
Mr Carswell asked David Cameron whether he supported Richmond Park MP Zac Goldsmith's proposed amendments to the Recall Bill, aimed at making MPs more accountable to their constituents.
He said "real recall" was needed, adding: "Will you now support these amendments in order to honour the promises on which you sought office in 2010?"
Mr Cameron said he was delighted to be keeping the promise of a vote on a recall bill in Parliament and pointed out the second reading was due "very soon".
He added: "I will look very carefully at all amendments to come forward because frankly getting this Bill together, I think we have come up with the minimum acceptable.
"But I think there are a lot of very good arguments to be had about how we can go further and I look forward to having them in the House of Commons."
After the Queen's Speech, Mr Goldsmith said voters had been duped by ministers who claimed the Recall Bill would allow misbehaving MPs to be removed from their job.
He believes the legislation needs more teeth and has tabled a rival Recall Of Elected Representatives Bill, drafted with assistance from 22 MPs on both sides of the Commons and campaign group 38 Degrees.
He says his Bill would hand genuine power to voters by making the recall process subject to a two stage petition of electors in a constituency, without MPs having a say over whether it goes ahead.