Weapon Found Near Salary Brook Trail
24 June 2014, 15:27 | Updated: 24 June 2014, 16:39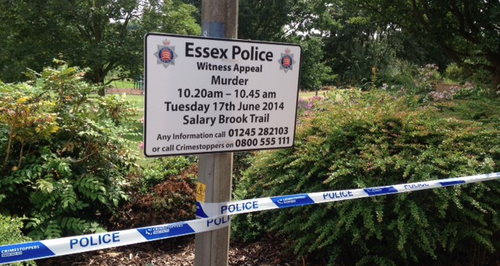 Police investigating the murder of Nahid Almanea have found a weapon close to the murder scene.
It was found earlier today (23rd June) on Hawthorn Avenue, this is part of the route Nahid Almanea would have taken on her way to University the day she was killed.
Hearts been told it's too early to know whether or not the weapon is linked to the murder of the 31 year old student but it will be sent away for a forensic examination.
Meanwhile, Detective Chief Superintendent Steve Worron says they have had a fantastic response from the people of Colchester in helping to identify potential witnesses.
Earlier this week DCSI Worron told Heart he wants to speak to two people seen on bikes in the area, a man wearing a tan coloured jacket and a man running in a red hoodie.
Now there's another man police want to identify and speak to.
The man was seen 4 days before Nahid was killed (June 13th) on Stanley Wooster Way close to where Nahid lived in Woodrow Way.
He was seen following two women who came out of a house, one of which could have been Nahid.
He's described as being in his 30s, around 5"10 tall, short dark hair, wearing casual clothing and dark jeans.
It's also thought he was a local man speaking with a Colchester accent.
A week on from the murder of the Saudi Arabian student, police have been speaking to people who might be in there as part of a weekly routine and therefore may have seen something of interest to the police.
A cordon remains in place around an area of the Salary Brooke Trail as lakes and grassy areas continue to be searched.
DCSI Worron continues to say- the answer to solving this crime lies within the community.
He believes there would have been people in the area at the time of Nahid's murder and wants to speak to anyone who was.