Westcliff Flats Evacuated In Gas Mains Alert
18 August 2014, 12:40 | Updated: 18 August 2014, 12:46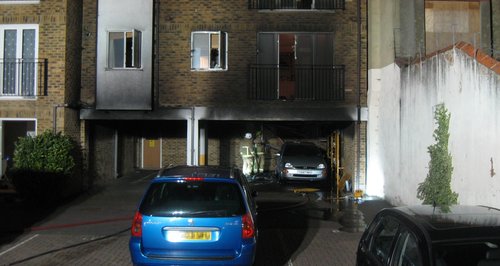 Two blocks of flats in Essex have been evacuated after gas mains were targeted by a suspected arsonist.
The first incident happened at 11.38pm on Sunday when firefighters were called to reports that vehicles in a car port were alight and gas supply pipes had been damaged beneath a block of flats in London Road, Westcliff.

A 70-year-old resident was treated for shock by paramedics.

About five hours later, firefighters were called to a "potentially deadly" fire involving traffic cones and a propane cylinder arranged over the gas main supplying another block of flats and a Tesco Extra shop in the same street.

About 30 people had to leave their homes and a cordon was established around the leaking gas main.

Referring to the second blaze, Assistant Divisional Officer Martyn Hodder said: "This appears to have been a deliberate attempt to damage a gas main, it was directly under the stairs which are the only means of escape for a block of 15 flats and could have had deadly consequences had our crews not got on top of it as quickly as they did.

"The burning traffic cones created a huge amount of thick black smoke and the propane cylinder could have exploded at any moment causing a great deal of damage.

"This seems to have been a very serious attempt to cause havoc and crews did a fantastic job tackling the fire and getting everyone safely out of their flats."

Essex Fire and Rescue Service confirmed the two incidents are being linked.

Essex Police said a 25-year-old man from the town was arrested on suspicion of arson at about 5am on Monday.

He is being held in custody.