Meet Essex's Bike Some Noise Cycle Champion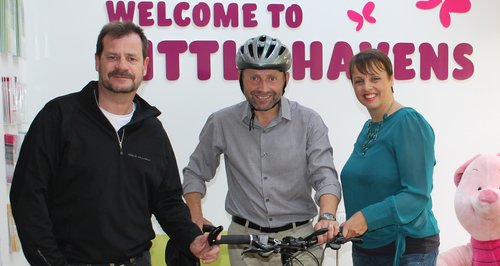 Global's Make Some Noise Charity Day is Thursday October 9th.
As part of an amazing day of fundraising, people from around our network of radio stations will be cycling from Land's End to John O'Groats on 'static' cycles to help raise money for disadvantaged children and young people across the UK and here in Essex.
Our county is being represented by Peter Hall who will be joining other local champions from around the UK. Peter is part of the team at Havens Hospices where he works for the fundraising team, specifically focussed on raising vital funds for Little Havens Hospice at Thundersley - one of the beneficiaries of this year's Make Some Noise Appeal.
For Peter, taking part in Bike Some Noise is set to be particularly poignant: "I'm a survivor of a life-limiting diagnosis of cancer back in the mid 90's. I underwent a bone marrow transplant and numerous treatments in support of my illness.
"I also survived a brush with bacterial meningitis and septicaemia in August 2000, contracted after my transplant. I was not expected to survive this particular episode - and my family were even called and came to say their goodbyes also at the time. I'm (naturally) delighted to say that the docs got it wrong!"

Peter has first hand experience of the vital work that hospices like Little Havens do: "I was referred for palliative care and received incredible care and support from our sister hospice, Fair Havens back in 1999.
"Against the odds and despite a terminal prognosis, I survived - thanks in no small part to the support I received from the charity.
"I am now completely recovered, fit and well - a real success story and cause to celebrate!"

To help celebrate and sustain his recovery Peter took up cycling and running. In 2007, he completed his very own John O'Groats to Land's End challenge for Havens, raising over £10,000 in the process and in 2015 he will be running his tenth London Marathon in support of the hospice.

Peter is a father of four and married to Elaine, who also works for Havens Hospices.
We will be following Peter's progress during Heart Breakfast with Martin and Su on Thursday 9th October from 6am.