Business Plan For Exeter City Centre Launched
9 December 2014, 18:13 | Updated: 9 December 2014, 18:19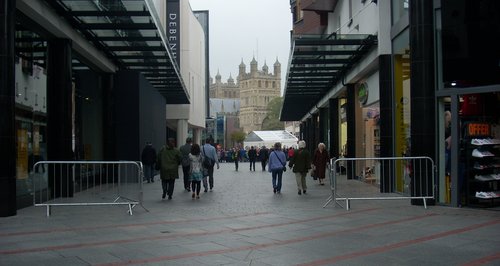 More than 50 business representatives were present at the launch of the Exeter BID proposal document which was revealed at the Royal Albert Memorial Museum on the 8th December 2014.
Those attending the event learnt more about the BID and what will be included within the BID Business Plan which will go out to all voters in January 2015.
The business plan identified three main priorities: marketing and events, welcome and safe as well as looking after businesses.
Further ideas within the plan include making Exeter a clean and safe city which could include gaining Purple Flag status for the city– the gold standard of management for the Night Time Economy. Further aims include looking after businesses to perhaps help reduce overheads and to influence change. It is also hoped that the BID monies will help to design a programme of high profile events throughout the year to grab attention which will include joined-up marketing and promotion of events.
Derek Phillips, chair of the BID Board said:
"This was a very positive meeting with considerable enthusiasm for the proposal within the business plan. We hope that those who attended will take the message back to all those within the BID area."
Mattie Richardson, owner of 'Bunyip Beads & Buttons' an independent retailer on Fore Street commented:
"I feel positive about the prospect of Exeter BID. All our needs and ideas as a business community could now have the possibility of becoming a reality, which is exciting. It's great that Exeter's business community is talking, and hopefully, working together. Both big and small businesses are involved in BID, meaning we can share each other's resources, strengths and ideas."
Helen Scholes, Marketing Manager for Stagecoach South West voiced her support at the event,:
"The BID has arrived at the perfect time for Exeter. Through BID we can develop a strong, coherent city identity. We can broadcast it loud and clear, not only regionally but nationally too. We believe that BID can help us develop a coordinated year round events programme to give visitors a memorable experience to take away. It can help us to ensure businesses both large and small actively participate in the growth of their city and create a balanced offer with something for everyone."
The business plan was developed following several months of consultation with voters both in person and via an online survey.
So far over 350 businesses have been consulted directly. Business managers and owners were asked about their opinions and ideas on a variety of topics some of which included marketing, events and festivals, cleanliness, transport and accessibility.
Via an online survey, it was found that 52% of people felt that marketing Exeter City Centre is very important to the success of their business and that only 4% of people thought that the level of marketing for the city centre was at a good level. 60% of people who took the Exeter BID survey expressed that they would like to see more festivals and events throughout the city and 40% said that festivals and events are important to businesses in Exeter.
When asked about cleanliness in Exeter, over 90% of people asked said that they felt litter removal and street cleanliness were very important for the city. Those who took part in the survey commented that commercial waste is a real issue within the city and that action should be taken to stop litter spilling onto the streets.
To find out more about the Exeter BID, please visit www.exeterbid.co.uk