Crediton: Wreaths Damaged In Vandal Attack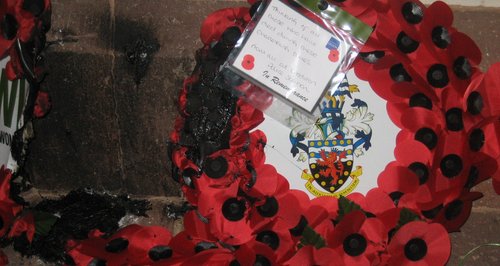 Vandals attack Crediton's war memorial. A member of the public has told police they witnessed two youths setting fire to the wreaths placed on the war memorial.
The wreaths suffered burn damage and there are a number of scorch marks on the war memorial.
Police were called at around 1:15am on Monday 10th November officers plus a police dog conducted a search of the area but no one was found.
The two suspects are described as aged around 14-15, one male and one female, both wearing hooded tops and were seen running from scene towards the park behind the memorial.
Inspector Jane Alford-Mole, said: "This is a sickening act of mindless vandalism and we are desperate to identify those responsible.
"This is a deeply upsetting crime which will personally affect many of the residents of Crediton.
"The wreaths had been placed by a number of indivduals and groups who are closey connected to the Act of Remembrance including the Crediton Women's Institute, Devon and Cornwall Police as well as the family of a Crediton Lance Corporal who died earlier this year whilst serving in Afghanistan."
Police are appealing for any witnesses to call 101 quoting crime reference CR/1211225/14, or Crimestoppers on 0800 555 111.