Devon's Most Tweeted About Tourist Attractions
24 October 2014, 13:28 | Updated: 24 October 2014, 13:53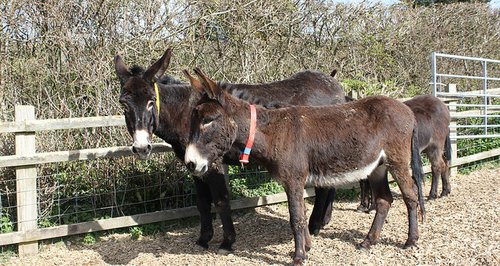 With October half term on the horizon, and with families starting to plan how to keep children busy during the school holidays, Visit Devon has revealed the county's most popular tourist attractions based on activities that have generated the most social conversation on Twitter over the last 12 months.
Renowned for it's work with donkeys all over the world, and home to the largest collective group of mules in England, The Donkey Sanctuary on Slade Farm in Sidmouth has been ranked as the number one attraction in Devon.

The Twitter research, which was conducted from October 2013 to October 2014, also reveals that Paignton Zoo, home to more animals than any other zoo in the South West of England, is number two in the list of the most popular Devon-based attractions. With third place belonging to the historic Exeter Cathedral, a popular landmark that is heralded as one of the great cathedrals of England.

The top 10 attractions in Devon that are creating the most social buzz on Twitter are:

The Donkey Sanctury - @DonkeySanctuary

Paignton Zoo Environmental Park - @PaigntonZoo

Exeter Cathedral - @ExeterCathedral

Killerton House & Gardens - @NTKillerton

RHS Garden Rosemoor - @RHS_Rosemoor

Powderham Castle - @powderhamcastle

Salcome Lifeboat Station - @RNLISalcombe

Battery Gardens and Brixham Battery Museum - @brixhambattery

South Devon Railway - @southdevonrly

Saltram - @NTSaltram

With increasing numbers of people using social media to prepare and share their holiday experiences, this research provides an interesting insight into the places in Devon that people have been talking about the most. Carolyn Custerson, Chair of Visit Devon, said:

"Social media is now a powerful tool for the tourism industry and it is fantastic to see so many of Devon's great attractions making their mark in this recent study. On our own Visit Devon twitter page we have found that tweeting is an invaluable tool that has enabled us to speak to visitors directly at all stages of their holiday. Devon depends heavily on it's tourism economy and it is encouraging to see so many established attractions embracing this evolving technology."

Recent analysis of Twitter conversation shows that 71% of its users tweet about their holiday whilst away, with more than half of users sharing their photos on Twitter and 46% of people using it to find local information.